9 Band Skateboards That Will Make You Say "See Ya L8r Boi"
17 January 2017, 16:13 | Updated: 8 May 2017, 17:09
Paramore, Blink, MCR, FOB and more get the skateboard treatment...
They are all bands. They are all boards. Can we make it any more obvious?
Let's face it, there is no finer way to show off your fandom than by putting their logo all over your skateboard (even if, like us, you are just terrible at it. Like "Bambi on ice" terrible).
But which one should you go for? We've compiled a few of our fave options for you to peruse and rock next time you wanna hit the skate park.
1) Fall Out Boy
Fall Out Boy
This official piece of band merch is perfect for riding along the streets of Chicago (plus the Batman logo is a nice touch - any future acting aspirations there Pete?).
2) Paramore
Algae Skateboards
This custom job was made by Algae Skateboards, known for their innovative creations online but is, tragically, not available in the team's webstore at present. But hey, maybe if you ask nicely enough, they might make you another one up for the right price?
3) Green Day
Green Day
Originally created for a charity campaign, the above limited edition sets are sadly no longer available but you can grab a very similar 'UNO' board over at Real Skateboards now. Then go donate to charity anyway because why not?
4) Twenty One Pilots
Whatever Skateboards
The good people over at Whatever Skateboards have a HUGE lineup of boards worthy of any Clique member but our personal fave has to be the above design based around the Blurryface artwork. Yours for just $64!
5) Blink-182
Whatever Skateboards
Another design courtesy of Whatever Skateboards, this board uses the cover of the trio's recent comeback effort California as inspiration and is, frankly, the perfect way to roll up to any rock show.
6) Panic! At The Disco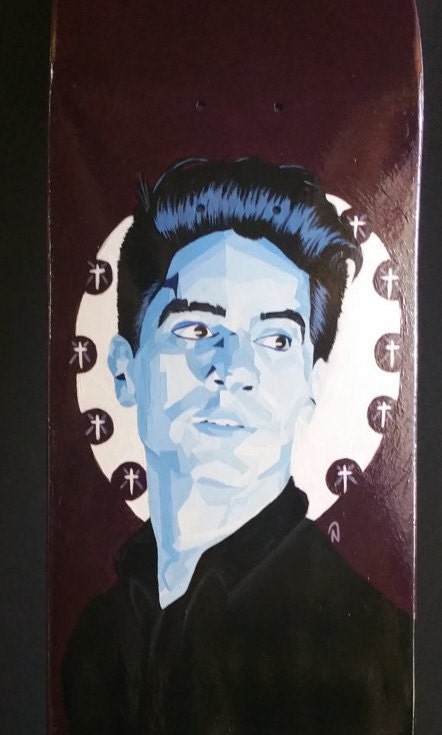 Sickly Venom, Etsy
Another beautiful homemade design, this time via Sickly Venom's Etsy store, painted on sanded wood as part of a set of 3, also featuring Tyler Joseph. Although it should be noted that, according to the seller, it is "not recommended for street use" but, hey, it's so beautiful you'll just want it hanging on your wall anyway!
7) 5 Seconds Of Summer
The boys did design their own boards as you can see in the clip above but, again, you can't buy them anywhere. So, just grab a blank board, get yourself some customising paint and follow their moves exactly. Sooner or later, you'll have your own authentic 5SOS board!
8) My Chemical Romance
Whatever Skateboards
Look at this little beauty! Celebrate the anniversary of The Black Parade in style with this MCR-tribute board worthy of Gerard himself.
9) Avril Lavigne
Ok, no, there technically isn't a board here. But did you really think we were going to do an article like this and not mention the queen? Come on now.
Any fave boards on the list? Got your own that we've missed off? Let us know below.