Here's The Best Albums Of 2016 (So Far...)
8 June 2016, 12:29 | Updated: 8 May 2017, 17:09
Let's take a little journey back over the first half of the year in music...
Unbelievably, we are now halfway through the year (!) and so its time to round up some of the best releases we have heard so far and arrange them into some kind of list format to make our lives easier at the end of the year create some high quality music based content for your reading pleasure.
So, here's a few of our faves from 2016 so far.
Best High Notes
Panic! At The Disco - "Death Of A Bachelor"
YouTube
The first solo effort for Brendon Urie saw him get personal, referencing his hero Frank Sinatra at every turn, hitting dog-hearing levels of high notes in the record's smooth singalong title track. Still waiting on the live debut though Brendon, hurry up please.
Key Tracks: "Death Of A Bachelor", "The Impossible Year".
Best Lyrics
The 1975 - "I Like It When You Sleep For You Are So Beautiful Yet So Unaware Of It"

Interscope/YouTube
From the girl who can't hold a conversation without Instagramming her salad to the image of Matty searching for his brain in the aisles of a supermarket, The 1975's sporadic, epic comeback album was frequently hilarious and self-deprecating, making them even more endearing to their ever expanding audience. The fact that the music was also excellent helps too.
Key Tracks: "Change Of Heart", "The Ballad Of Me And My Brain".
Best Bops
Ariana Grande - "Dangerous Woman"
"Into You". "Be Alright". Need we say more? Yes because we haven't mentioned the epic key change in "Greedy" yet. Will be played at every summer barbecue and rightly so.
Key Tracks: "Greedy", "Into You".
Best Beats
Chance The Rapper - "Coloring Book"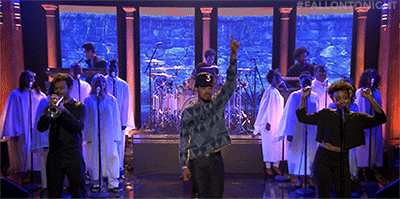 Tonight Show/YouTube
Sorry Kanye, I'mma let you finish but Chance had the greatest rap album of the last 6 months. Plus, let's be real, he kinda stole the show on "The Life Of Pablo" too.
Key Tracks: "No Problem", "Angels".
Best Sex Jams
Rihanna - "Anti"
Worth the (excruciatingly long) wait. In an alternative universe, "Kiss It Better" is the theme tune to a Bond film, the melody given a saxophone reworking during a steamy scene in the back of a car after Daniel Craig has just beaten up a pack of eight dudes while riding a motorbike over a canyon. Or something. Plus the incessantly catchy "Work" will most likely still be tearing up the charts long after we have all left the planet.
Key Tracks: "Kiss It Better", "Desperado".
Best Revenge
Beyonce - "Lemonade"
HBO/Tidal
The Queen returned in serious style, taking on rumours about her personal life head on and creating a showstopping TV and music event that nobody could stop talking about and sent GIF-makers everywhere into meltdown. A star-studded guest list, political insights that were woke AF and a very well placed Led Zep sample make this probably her best record to date.
Key Tracks: "Hold Up", "Don't Hurt Yourself".
Best Goodbye
David Bowie - "Blackstar"
Even his death was a work of art. A huge musical loss in a year sadly full of them.
Key Tracks: "Lazarus", "I Can't Give Everything Away".
Honorable Mentions
A few more records you should definitely be checking out:
Zayn - "Mind Of Mine"
Sia - "This Is Acting"
The Knocks - "55"
Tonight Alive - "Limitless"
The Ready Set - "I Will Be Nothing Without Your Love"
Drake - "Views"
Pierce The Veil - "Misadventures"
What are your faves so far this year? Let us know below!