And The Best Pop Punk Album Of 2016 Is...
5 December 2016, 14:56 | Updated: 8 May 2017, 17:09
From PTV to Waterparks, Panic! to Blink, here are our fave 11 pop punk albums of the year...
2016 will no doubt be remembered in history for many horrible events that we'd honestly rather forget about - Brexit, Trump, RIP Harambe. But for pop punk fans it will go down as the year in which the genre made a full-on return to chart domination, with classic bands returning to form after years in the wilderness and new acts releasing albums that took the scene to new and exciting places.
Basically, pop punk has had a very good 2016.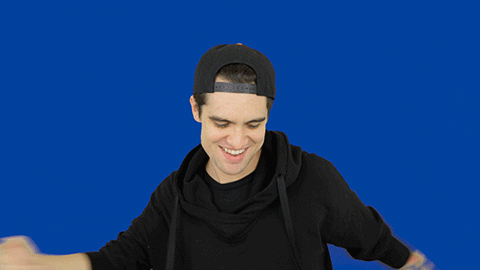 Giphy
So, we thought we'd round up a few of our fave pop punk albums of the year for you to devour - listening to these will be even more satisfying than eating pizza in the backseat with your friends while you get the f*ck out of this town!
Albums That Didn't Quite Make The Final List But Are Still Rather Good Records That You Should Probably Listen To
Taking Back Sunday - Tidal Wave
A Day To Remember - Bad Vibrations
Simple Plan - Taking One For The Team
Yellowcard - Yellowcard
Good Charlotte - Youth Authority
The Top 11 Pop Punk Albums Of 2016
11) Sum 41 - 13 Voices
With commercial returns diminishing, original members exiting and frontman Derek Whibley's recovery from liver failure, many had long since written off Sum 41's chances of a glorious return. Cut to now and Hopeless Records' latest signing prove they still have some of that All Killer, No Filler magic within them, stripping back the excessive production that had marred their latter day efforts and just delivering what we have always wanted from them - bouncy pop punk at the loudest of volumes.
Key Track: 'Fake My Own Death'
10) Weezer - Weezer
Another year, another self-titled Weezer album we'll all just refer to by the colour of the cover. Thankfully, this one builds off the momentum of 2014's Everything Will Be Alright In The End to deliver a collection more in line with the 'Green' album than the 'Red' album. Rivers and co certainly sound re-energised, with producer Jake Sinclair giving the tunes a modern edge, having handled the recent output of 5SOS, FOB and Panic! to name a few. Brings the summer vibes, and the cannolis, all year round.
Key Track: 'Thank God For Girls'
9) Swmrs - Drive North
Fueled By Ramen's latest signing come with some serious family credentials behind them - drummer Joey Armstrong is the son of Green Day's Billie Joe. However, Drive North offers a much heavier sound than you might expect, more indebted to the likes of Black Flag than Blink 182. That's not to say there aren't catchy melodies on offer with 'Palm Trees', added last minute for the FBR re-release, proving that an old-school punk sound can still have serious commercial appeal.
Key Track: 'Palm Trees'
8) Jimmy Eat World - Integrity Blues
With 'The Middle' having a grand resurgance in popularity thanks to a certain Taylor Swift-starring TV commercial, Jimmy's ninth album couldn't have arrived at a more apt moment. Scoring their highest charting UK release, Integrity Blues finds a band settled into their crowd-pleasing sound, single 'Sure and Certain' delivering the emo power pop reminiscent of their classic Futures-era.
Key Track: 'Sure and Certain'
7) PartyBaby - The Golden Age Of Bullsh*t
When we first saw California's most-buzzed about band arrive for their London debut, frontman Jamie Reed worked up such an almighty sweat that his huge hairdo quickly made him resemble The Muppets' Rowlf after a session in the rain. Thankfully, these are the perfect conditions for Partybaby's brand of punky indie pop, 'I Don't Wanna Wait' starting up a moshpit in a bar usually reserved solely for hipster shoegazing. Other cuts from this exciting debut recall similar-sounding '90s revival acts, the energy and brilliance of the Smashing Pumpkins style sing-along 'California' raising your hopes for future festival appearances.
Key Track: 'I Don't Wanna Wait'
6) Waterparks - Double Dare
The Texan trio have a touch of Blink's cheeky charm on their debut album, unafraid of mixing pop melodies into their repertoire to great effect. Mentored and managed by Good Charlotte's Madden Brothers. single 'Stupid For You' recalls that band's peak MTV-fame, while 'Hawaii (Stay Awake)' showcases frontman Awsten Knight's ability as a lyricist as well as a charismatic frontman. Watch this space - soon, they will be as big as the bands that inspired them.
Key Track: 'Stupid For You'
5) With Confidence - Better Weather
The debut from Aussie pop punk newcomers With Confidence hints at the level of love these 5SOS-approved boys can expect in the near future. Tearing into opener 'Voldemort', frontman Jayden Seeley uses the Harry Potter metaphor to openly discuss depression with their youthful audience in an accessible way, backed ably by the frankly brilliantly named guitarist Luke Rockets. By the time single 'We'll Be Okay' arrives, even older, more cynical metalheads will find themselves turning the speakers up. Turns out catchy melodies and a little confidence (sorry) go a very long way.
Key Track: 'Voldemort'
4) Pierce The Veil - Misadventures
Returning with their first new record in four years, San Diego's finest produced easily their strongest collection to date, polishing their sound for a radio-friendly take on their heavy, fast-paced punk. Single 'Circles' even did what many would find impossible, marrying a moshpit-friendly instrumental with passionate lyrics inspired by the Paris attacks at the Bataclan venue in 2015. The fact that the song manages to maintain it's hopeful, upbeat sensibility despite the heavy subject matter is a clear indication of just how far PTV have developed as a group in their time away.
Key Track: 'Circles'
3) Blink 182 - California
With the departure of frontman Tom DeLonge, many long-time Blink fans could be forgiven for worrying that some of the magic may disappear from the group in their new incarnation. Thankfully, California is the band's finest release since 2003's self-titled album, returning to the upbeat earworm melodies that first shot them to fame back in the late '90s. Alkaline Trio's Matt Skiba slots nicely into the lineup, singles 'Bored To Death' and 'She's Out Of Her Mind' sound like they could have been ripped directly from the Enema Of The State sessions and there is a welcome return of Mark Hoppus' famously immature sense of humour on the likes of 'Built This Pool'. Their lineup may have changed but this is the classic Blink that you know and love.
Key Track: 'She's Out Of Her Mind'
2) Green Day - Revolution Radio
Whenever there is political unrest spreading across the US, at least we can always rely on one thing - Green Day will drop an album full of bangers! Written and released during the most tense presidential election cycle in a generation, Billie Joe taps into an energetic anger not fully unleashed since 2004's American Idiot, recapturing the fast-paced musical urgency that made the California trio so popular in the first place. 'Bang Bang' packs a punch reminiscent of 'Basket Case' while 'Still Breathing' seems tailor-made for the festival circuit next summer. Nice to have you back boys, you were certainly missed.
Key Track: 'Still Breathing'
1) Panic! At The Disco - Death Of A Bachelor
Brendon's fifth studio effort hit the Number 1 spot in America back in January, asserting the band's status as arena hopping giants of the scene, packed with HUGE singles in 'Victorious' and 'LA Devotee' that easily hold up against the classics from their extensive back catalogue. Pushing the genre into all manner of new directions, mixing rat pack swing with synthy pop and even gospel, recent Panic! live shows have seen a whole new young audience brought in to the fold thanks to this eclectic, anthemic and, above all, fun album. The emperor has just given pop punk a whole new set of clothes.
Key Track: 'Death Of A Bachelor'
Agree with us or nah? Let us know your fave pop punk album of the year in the comments below.
___ ___ ___ ___ ___
Catch Pierce The Veil on the #PopBuzzPodcast right now. Subscribe for free on iTunes to get new episodes sent straight to your phone every Wednesday.