Busted Are Back: What Does This Mean?
10 November 2015, 14:50 | Updated: 8 May 2017, 17:09
Are McBusted Still A Thing?
Busted, the greatest pop punk band the UK has ever produced, are getting back together.
It's been over ten years since that horrible day in January 2005 when Charlie Simpson departed Busted and the boys swiftly called it a day, leaving behind a brief but influential legacy of two excellent albums and four number one singles.
Sad days.
At the time we were all very mad with Charlie for leaving.
But time heals all wounds and so we were of course delighted with this morning's big news.
Yep. Busted. Are. Back.
13 UK arena dates are happening next March, kicking off at Wembley Arena, the site of the band's final gig, as is explained in this highly emotional reunion video:
Full tears.
Yep, this is all pretty emotional but before we go any further, there are just a couple of questions we are going to need Matt, James and Charlie to answer:
1. What Will Happen To McBusted?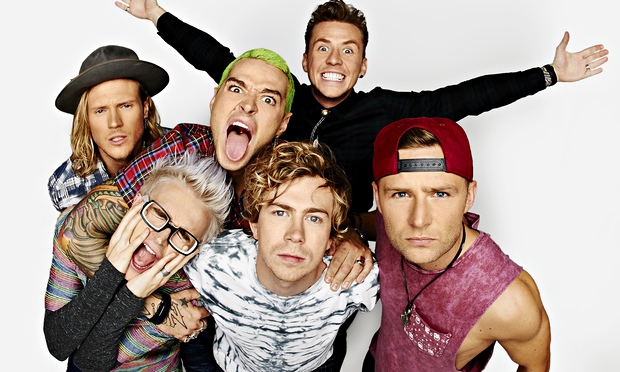 This is the important one. McFly of course have been a great success in their own right for years with great tunes like this one.
Then, after years in the wilderness of reality shows and studio writing sessions, Matt and James joined their mates in McFly to make a supergroup for a one-off charity show back in 2013, which led to a full tour featuring inflatable boobs, t-shirt cannons and an actual BTTF Delorean.
They then released their debut self-titled album and it was pretty magnificent, featuring writing credits from famous friends All Time Low, Rivers from Weezer and Mark from Blink. And while the singles 'Air Guitar' and 'Get Over It' were both great, the real revelation was 'What Happened To Your Band', James and Matt's ode to life after pop superstardom. It's deeply honest about their fame and the sudden change of fortune they suffered post-Busted. Listen here if you haven't heard it. It's a bit heartbreaking:
But what now? Will McFly return to business as normal or will we see a complete McBusted supergroup next year? Both groups can stand up in their own right but it would be a shame to see great songs off their album go unplayed.
2. What Will Happen To Fightstar/Solo Charlie?
Part of the reason Charlie left the first time round was to form emo outfit Fightstar who have had a pretty successful run up until now, touring as recently as this year. Charlie also released two solo albums of acoustic, folkier material, the most recent of which reached the top 10 back in 2014. Will Charlie continue his side-projects during Busted 2.0? Or is he back with the boys full-time?
3. Will There Be A New Busted Album?
In the press release this morning, the boys revealed that part of what brought them back together was a song-writing session, where they came up with around 3 new songs. But will they ever see the light of day?
McBusted tested the waters with a 'hits' tour before any new material so it is unlikely we will see a full album before late 2016. But who knows, maybe they'll drop in a few new tunes on the tour. Or pull a Beyonce and let the album land as a complete surprise before they hit Wembley.

4. Will They Finally Crack America?
As was documented in the seminal MTV reality series 'America Or Busted', the boys had a pretty good go at trying to break the states, the spiritual home of all things pop punk. However, the closest they got was having the Jonas Brothers release a cover of their seminal hit 'Year 3000'.
But that was back in the dark days before tumblr. And the band's street cred stateside has gone up since James began writing songs for 5SOS. Maybe they should get all their famous friends together, record some tunes and give the States one last push, finally showing the world that the UK can do pop punk as well as anybody else.
And Finally....
5. Will they play 'She Wants To Be Me'?
What a song.
Welcome back boys, you've been missed.