Carly Rae Jepsen New Album: Title, Tracklist, Release Date, And Everything We Know So Far
28 February 2018, 11:05 | Updated: 26 March 2018, 13:11
Release date, lead single, and collaboration rumours. Carly is set to drop her new album in early 2018. Here's everything you need to know.
Carly Rae Jepsen's follow-up to Emotion: Side B is slated to arrive in early 2018. The singer just finished a stint on Katy Perry's Witness tour and fans are officially ready to usher in a new season of Carly. So, when can fans expect new music from the singer?
When is Carly Rae Jepsen's new album coming out?: Carly Rae Jepsen new album release date rumours
Everything we know points to an early 2018 release for CRJ.
In October 2017, Carly told The New Yorker festival what she had already written 80 songs for the new album and that she was in the process of "polishing" the album and getting to a place where she could "feel the order makes sense."
In December of 2017, Carly also posted a video of herself to insta stories, teasing once more that new music was on the way.
via Instagram/Carly Rae Jepsen
So, how soon is "soon"? Well, judging from the behind the scenes photoshoot snap in December, images for the album promo are under way or even certainly finished at this point.
Carly also appears to have filmed something on a boat very recently. Could this be for a music video from the album?

Considering the fact that Carly just got off the Witness tour at the start of February, early March - April feels like a solid time frame for the album or, at the very least, a lead single.
Eagle-eyed fans have also noticed that Carly Rae Jepsen's Spotify header has been updated. New aesthetics strongly point in the direction of new music come early April.
She updated her Spotify header. She's coming to rise on Eater weekend wow pic.twitter.com/bluiZtslRm

— Dad 2 Da Bone (@RyneIsMean) March 25, 2018

What is Carly Rae Jepsen's new album called?
Carly has not yet announced the title of her upcoming 2018 album. However, fans noticed that she added some never before seen lyrics to her Instagram bio in early February. "When you move it's like a disco darling - all my dreams come true."
Because of her statements in the past, we know that a 70s tinged disco album may be on the way. In 2016, she told the Vancouver Sun "I can't explain what we're doing right now, but we're very much into disco-y things, whatever this next album may or may not turn out to be."
Because of this and the recent addition to her Instagram bio, people are guessing that her album or the lead single will be called "Disco Darling". However, that seems a tad bit on the nose.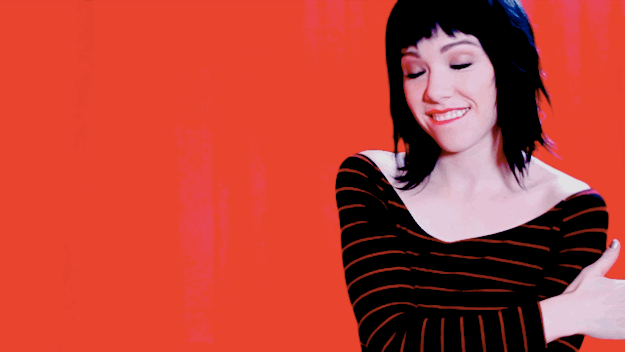 via Buzzfeed

Who is Carly Rae Jepsen working with on her new album?
Carly isn't a big feature artist when it comes to her solo album releases.
We know that she featured on "Backseat" with Charli XCX last year, which could indicate that they collaborated on a couple of songs together.
We also know that she has been hanging out in the studio with Troye Sivan. While Troye confirmed to Popbuzz that a collab with Carly probably won't appear on his new album. He never said anything about a song featuring him appearing on her album, though. It certainly would be a good fit.
Then, of course, there's the fact that Jack Antonoff and Lorde performed "Run Away With Me" during a live show. Could this be the ultimate easter egg?
Jack has produced songs for artists who operate in a similar space as Carly. Carly worked with some massive pop producers on her last album, so there's no doubt she will have worked with them again for this 2018 release. We also know that Taylor Swift and Lorde both worked with Jack on their most transformative records. Could Jack Antonoff be lending a helping hand on Carly's disco record?
It's a possibility.