Why It's OK To Be Nice: In Defence Of CHVRCHES And Likeable Popstars Everywhere
18 November 2015, 12:12 | Updated: 8 May 2017, 17:09
Let's talk about the "n" word.
CHVRCHES began their sell-out UK tour in Brighton this week in support of second album Every Open Eye. But while their fans clearly loved it...
@CHVRCHES Thank you for the music you make. Brighton was perfect. Big love #recover

— Jay Langridge (@JayLangridge) November 17, 2015
@CHVRCHES If you have never seen chvrches live before you are missing out!! They were amazing in Brighton last night!!

— Colin Dale (@vxtoon) November 17, 2015
...The Guardian, reviewing the show, called it "bubblegum pop that leaves a bad taste of niceness".
Their 2 Star review goes on to say: "What makes CHVRCHES odd is the disconnect between their live sound, a pulsating electronic wallop, and their pervasive sense of niceness. Everything about this band is black except its soul. This is vanilla EBM; goth for people who are afraid of the dark."
And the fans were kind of stunned.
@CHVRCHES Brilliant show in Brighton last night. Have just commented -vely on ludicrous @guardian review. Can't even tell if he liked you.

— Ian Barrett (@HarpendenLad) November 17, 2015
What's w/ @guardian's heel turn toward @CHVRCHES? Embracing misognyistic views toward Lauren & now this crap review. https://t.co/UX76U9Qj3f

— Rich Viola (@CHVRCHESGorilla) November 17, 2015
Now, for the sake of full disclosure, I love CHVRCHES. Their Alexandra Palace gig next week will be my fifth trip to see them live and, unless Michael Jackson returns from the dead and drops Off The Wall Part 2 onto iTunes before December, Every Open Eye will easily top my best of the year list.
And crucially, one of the most appealing aspects of the band, at least to me, is their "niceness".
That's not to say they are bland. Let's be clear, they are exciting both live and on record and can eloquently speak their minds about issues close to their hearts - Lauren's response to twitter trolls over the reaction to the "Leave A Trace" video was particularly well-crafted - so by "niceness", I do not mean they are "vanilla" as the Guardian described.
For CHVRCHES, "niceness" means the same as it does for all the most relevant of today's popstars - they form an amiable connection with their fans by just being themselves.
The days of highly polished, factory manufactured popstars are effectively gone as personal touches shine through with performers communicating directly to their fanbase without the need for any pre-planned posturing.
Taylor Swift regularly surprises her Tumblr followers with gifts and messages of support.
Paramore are taking their fans and favourite bands (including CHVRCHES) on a cruise with them.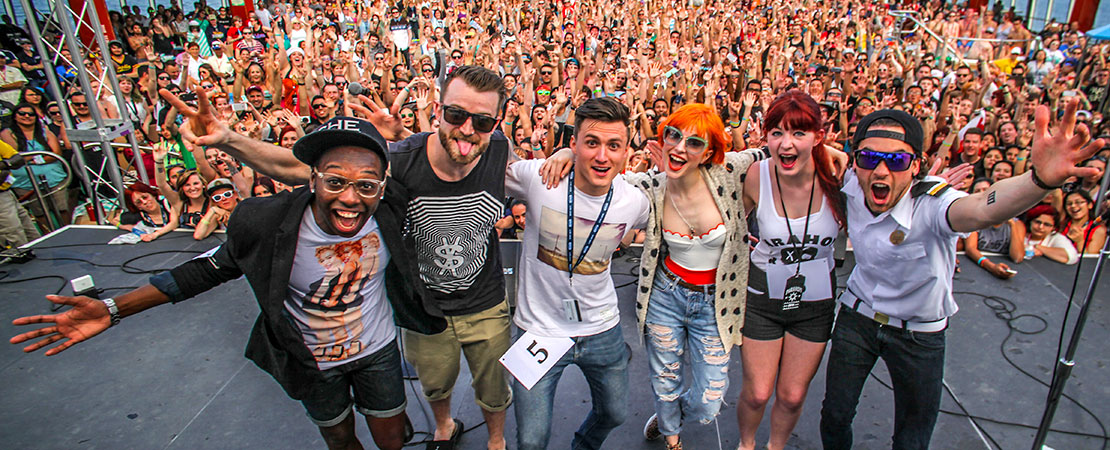 Even One Direction, although formed on a TV show, only became the biggest boyband in the game thanks to their fandom's ability to identify with their individual quirks and personalities through their engagement with them online.
The last time I went to a CHVRCHES headline show, it was at Somerset House in London as part of their summer concert series and the crowd were, by and large, awful. This was a very corporate show and my friend and I were left with the feeling that we may be in the minority of people present who could even name half the songs being played. Yet we still had a great time because...
1) The aforementioned songs are big soaring synthy monsters you can't help but dance to.
2) The band themselves were having fun. They messed around. They talked direct to the audience. They referenced the surroundings. When a noise complaint was called in, Lauren took to the mic, pointed at the penthouses above and said, "Well maybe you shouldn't be living here." The crowd went nuts.
Finally, let's look at one last quote from the Guardian review:
Singer Lauren Mayberry is a personable, self-effacing stage presence between songs, but not quite big enough during them.

The Guardian
Well, firstly, when only three people on stage are making a noise that engulfs arenas whilst perfectly replicating the passion heard in the lyrics and vocals of the album, I don't think you can say it's not big.
And secondly, whilst I wouldn't dream of trying to mansplain any issues regarding female musicians I will ask this - would a male frontman of a major band ever be called "nice" as a criticism?
In short, CHVRCHES and all other "nice" popstars out there - you know what to do.
Bury it and rise above.