F— The Headliners, Here's The Real Coachella 2016
5 January 2016, 13:08 | Updated: 8 May 2017, 17:09
All our faves.
The festival season is about to kick into gear with Coachella 2016. Get excited!!!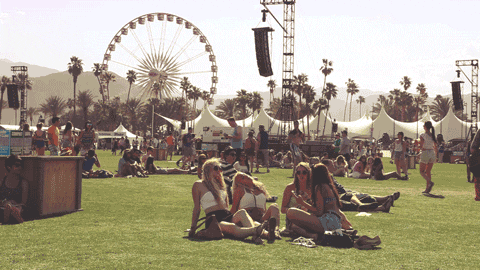 CHICANDPROPER.TUMBLR.COM
And so, we went to browse through the full Coachella lineup, excited to see how many of our faves had made the cut. That way we will know exactly when to rush the stage/refresh the livestream/check Vanessa Hudgens' instagram. But then we saw the headliners and our heart sank. Why? Well despite the welcome Celtic rave vibes of Calvin and the retro Brooklyn rave vibes of LCD Soundsystem (ask your Dad/"cool" Uncle), there were three and a bit words that made us spit out our organic yoghurt based breakfast beverage all over our converse - Guns 'n' (sic) Roses.
Here's the horrifying news in tweet form:
January 5, 2016
Chinese Democracy anyone?
But don't fear - if you scroll through the smallprint, there are many gems to be found. And, as luck would have it, we have rounded all those gems up and put together our own, alternative, smaller stage Coachella lineup in article form. #Content. Let's peruse:
1) The 1975
Who? Manchester-based, guitar-based purveyors of danceable indie art pop.
When? Sunday - April 17/24
Why? Upcoming album I Like It When You Sleep, for You Are So Beautiful Yet So Unaware of It, or ILIWYSFYASBYSUOI as nobody is calling it, drops in February so this will be one of your first chances to hear the bulk of their funky new material live. And, if the previews we heard at their London show are anything to go by, they will be worth the wait.
2) Years And Years
Who? Synth-affiliated trio of kings and official "sound of 2015" types.
When? Friday - April 15/22
Why? Communion ranked highly among our albums of the year and, having seen them slaying every 2015 stage from Glastonbury to the Capital FM Jingle Bell Ball, they are always reliable in terms of bringing the bangers and bops. Plus, if you're lucky, maybe Olly will drop in some of these moves:
This is what happens when you ask @alexander_olly to do the hotline bling dance. @yearsandyears #capitalJBB pic.twitter.com/R3ZVu0lIw2

— PopBuzz (@popbuzz) December 5, 2015
What a guy.
3) Alessia Cara
Who? The other youthful Canadian who isn't Bieber or Carly Rae.
When? Sunday - April 17/24
Why? Another fave album of last year, Know-It-All was a sleeper hit that grew its audience through the year thanks to a couple of rather excellent singles and some well-timed TV performances on the likes of The Tonight Show. It will be worth catching her now before she becomes massive!
4) CHVRCHES
Who? Glaswegian synth dramatists, Depeche Mode enthusiasts and all-round nice people.
When? Saturday - April 16/23
Why? Having seen Lauren and co. countless times across their two album campaigns, we can confirm that despite their small lineup and keyboard setup, their poppy, eighties loving sound can fill any space, creating a wave of of feel-good noise to carry you through the middle night. And hey, maybe Hayley Williams will show up too?
5) Halsey
Who? Come on. You're reading PopBuzz, you know who she is.
When? Saturday - April 16/23
Why? You know why.
Stop asking stupid questions!
6) Major Lazer
Who? Party producer crew with excellent taste in Craig Davids.
When? Sunday - April 17/24
Why? You will struggle to find a more entertaining festival prospect than Major Lazer. Whether challenging the crowd to a jumping contest, encouraging simultaneous shirt removal or simply spinning the blissed out bops they are famous for, Diplo and co. certainly know how to work a crowd. Bonus points if they bring out Bieber.
7) Grimes
Who? Singer/Album Artwork creator. The other other youthful Canadian who isn't Bieber or Carly Rae.
When? Saturday - April 16/23
Why? The Art Angels tour kicks into full gear next month, that album having been featured on pretty much every "best of the year" list available online. Including ours. We can't wait to hear how she plays with the variety of different song styles in a live setting, especially as tour tickets went so damn quickly we didn't stand a chance.
8) Foals
Who? Oxford-based, guitar-based purveyors of danceable indie art pop. With good beards.
When? Friday - April 15/22
Why? They stepped up to the festival-headlining big leagues in the UK over the last few years at Latitude and Bestival, mixing their early ravey tracks with stadium-ready rock goliaths like "What Went Down" and "My Number". Should provide some much needed quality headbanging for those not inclined towards Axl Rose's tribute show to himself.
9) Disclosure
Who? Sam Smith's adoptive fathers.
When? Saturday - April 16/23
Why? Unlike the majority of DJs tied to their decks, Disclosure know how to work a crowd. Yes, there will inevitably be lasers and light shows plus multiple special guests but even when it is just the pair of them alone on the stage, they can still whip any audience into a frenzy just by pushing the right buttons.
Plus they smashed it last time:
Repeat please!
10) Ellie Goulding
Who? 50 Shades Of Grey starlet, the future Mrs McBusted.
When? Friday - 15/22
Why? In a year full of big singles, Ellie had an unbroken run of bangers from her new album Delirium and, in her presumed slot warming up the stage for James Murphy's LCD show, she will provide the perfect soundtrack for some sunset grooving to kick off the weekend.
Any we've missed out? Let us know who you wanna see live/watch on YouTube.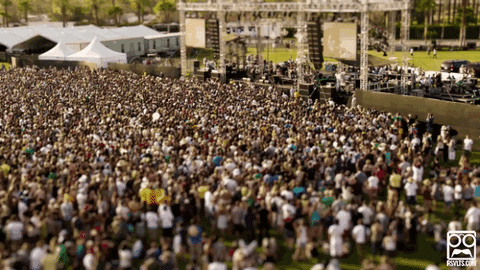 giphy