David Attenborough Just Made Adele's "Hello" Video 100x Better
4 November 2015, 11:43 | Updated: 8 May 2017, 17:09
HASHTAG FLIP PHONES
This is Sir David Attenborough. He is an animal lover, certified international treasure and now, winner of the internets.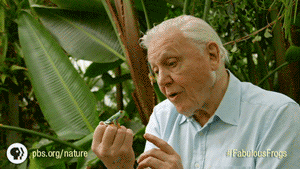 Good ol' Sir Dave stopped by Greg James' Radio 1 show the other day and narrated the introduction to Adele's 'Hello' video like it was the most mind-blowing season finale of Planet Earth ever. And in that moment, our lives suddenly had worth and meaning again.
He started by observing the natural habitat of the "popstar predator". Or, Adele, as she's known amongst friends.
He then goes on to rip her choice of cellular device to shreds. The Flip Phone is not safe from Attenborough.
He hangs on her every move, even making sure to comment on the absolute STATE of her hideaway...
Until we reach the moment we've all been waiting for...
"We are about to witness one of the great phenomena of the natural world, it's important for such a delicate and finely tuned animal that the lighting and setting is just right".
HELLO? IT'S ME!
Attenborough gives the video such a deep and emotional subtext that we're honestly all the more blessed for having seen this. But who will be next?! Ariana Grande? Justin Bieber? DRAKE?! We demand more Attenborough!
Watch the entire video here, it will change your life: