15 Emo Lyrics That Every 00's Teen Put In Their Facebook Status
24 January 2017, 16:43 | Updated: 8 May 2017, 17:09
Expressing your feelings, one lyric at a time.
Sometimes lyrics are just so damn relatable that you can't help but post an emo Facebook status containing one or two of them. We're all guilty of it. These days, it's nothing but Twenty One Pilots but let's hear it for the old classics that shaped our emo hearts and perfectly illustrated our moods back in the day.

1) "If I lay here, if I just lay here, would you lie with me and just forget the world."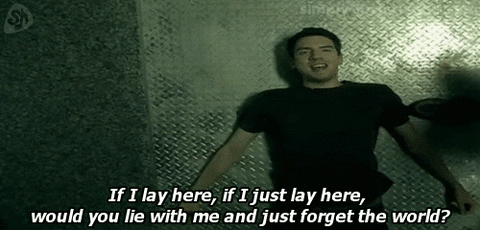 via giphy.com
If you never had the lyrics to 'Chasing Cars' in your profile as a teen, did you ever even exist in the first place?

2) "
Times Square can't shine as bright as you,

I swear it's true.

"
via giphy.com
Plain White T's 'Hey There Delilah' got you on a level, didn't it?

3) "If there's no one beside you when your soul embarks, then I'll follow you into the dark."
via giphy.com
Things got deep for a second when your teen self first discovered Death Cab for a Cutie. This was your go to profile lyric for when you were feeling extra emo.

4) "This shit is bananas, B-A-N-A-N-A-S."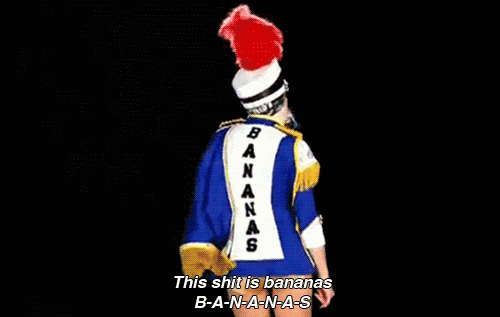 via giphy.com
Reserved for the internet daredevils amongst us... the only way we could have got away with swearing before our parents told us off.

5) "Hey hey, you you, I don't like your girlfriend!"
via giphy.com
You're lying if you said you never changed your profile to these passive aggressive Avril lyrics after you found out your crush got a new girlfriend. So subtle.

6) "I'm just a notch in your bedpost, but you're just a line in a song."
via giphy.com
The PERFECT insult to that boy who has been engaging in a flirtationship with you but ignoring your texts at the same time.

7) "When the sun shines, we'll shine together."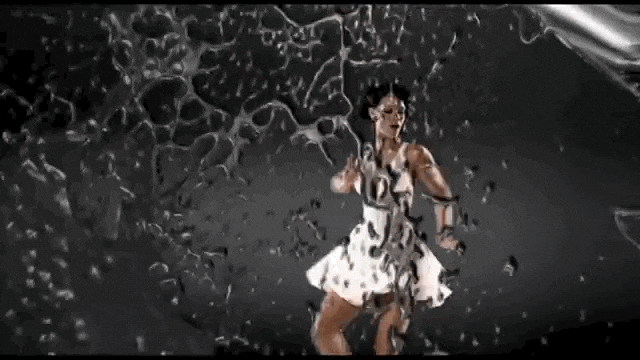 via giphy.com
Ahhh, the status reserved for the girl squad. Nothing like an inspirational quote from Rihanna to show the world how much your friends mean to you.

8) "We're soaring... flying... there's not a star in heaven that we can't reach."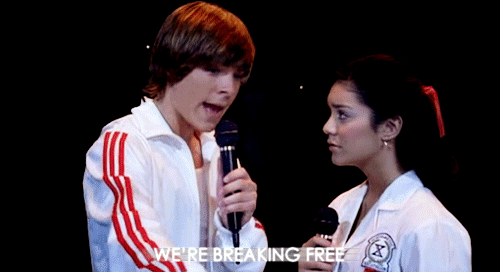 via giphy.com
*cries*

9) "
Stop making the eyes at me,
I'll stop making the eyes at you."
via giphy.com
The lyrics to 'I Bet That You Look Good On The Dancefloor' were your actual jam back in the day. And they left just enough mystery to ensure all your friends would be dying to know who you were talking about the next day at school.

10) "I'M NOT O-FUCKING-KAY!
"
via giphy.com

Cue tons of people sliding into your DMs and asking you what's wrong. God, don't they know they're just lyrics to a freakin' My Chemical Romance song? Can I live?

11) "
It felt so wrong, i
t felt so right, d
on't mean I'm in love tonight."
via giphy.com

You thought you were being sooooo subtle with this suggestive lyric from Katy Perry's 'I Kissed A Girl' but everyone could see straight through it...

12) "

When you see my face, h

ope it gives you hell."
via giphy.com

The perfect lyrical middle finger to any and all ex-boyfriends who dumped you to be with one of your mates. Rude.

13) "

I watched his wildest dreams come true, n

ot one of them involving you."
via giphy.com

Paramore's scathing lyric was one of your faves during your petty period. The ultimate side eye and the Facebook equivalent to a sub-tweet before sub-tweets were even a thing.

14) "Am I more than you bargained for yet?"
via giphy.com
Is 'Sugar We're Going Down' the most Facebook status ready song of all time or what? So many iconic lyrics.

15) "It started out with a kiss, how did it end up like this, it was only a kiss, IT WAS ONLY A KISS."
via giphy.com
We would literally bet every single penny we own that you had at least ONE lyric from Mr Brightside on your profile at some point in your teenage life. Are we right? Of course we are.