Defending Fangirls! Why Screaming Fans At Concerts Is A Good Thing
20 April 2016, 16:08 | Updated: 8 May 2017, 17:09
Older gig goers need to stop complaining and embrace the noise!
The Guardian published a piece this week that has stirred some debate online, detailing the prejudice and disdain held towards fangirls by certain bands attempting to prove how "genuine" they are.
"Fangirls? Aren't they just those kids who write One Direction conspiracy theories and scream throughout every song making the actual artist inaudible while viewing the entire show through their phone so they can apply the appropriate animal-based Snapchat filter to their idol while they are on stage?"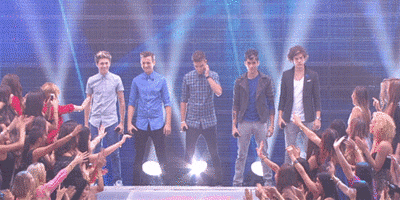 JIFERATI.TUMBLR.COM
No. No they are not.
Having previously worked at a gig venue in London for a few years, I have seen all manner of dedicated fandoms come and go and the ones with legions of teenage girls in the crowd, often in costume or with elaborate homemade signs, were always the most energetic and brought a bigger and better atmosphere to the room.
My more recent travels around gig land for PopBuzz have led me into diverse crowds of all ages and genders but always with a large batch of dedicated teenage fans parked right down the front by the barrier at all times.
ZOLLOC.COM
The 1975 tour in particular was an eye-opening look into that bands seemingly sudden rise to power, the Tumblr-loving legions out in force to support and scream wherever appropriate. The split further back in the standing area was fairly clear cut as the rising slope of Brixton Academy's creaky floorboards acting like an ageing scale towards the bar. Part of what makes that group so successful is their ability to communicate to all sides of their audience and, crucially, never talk down to the younger end of it.
And yet, despite the all-round good vibes of the evening, many of the grumpier older crowd members were obsessed with spending their evenings eye-rolling and tutting at even the slightest expression of youthful adoration thrown at Matty and co.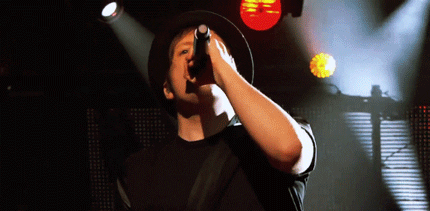 HE-WAS-A-DICK.TUMBLR.COM
The situation keeps repeating itself - PVRIS had fans lined up outside Kentish Town Forum for the best part of a day prior to playing but the sour-faced statesmen sat by me on the balcony were audibly judging the bouncing taking place below. Fall Out Boy's Wembley Arena stint featured an almost West Side Story-esque stand off between Cork Tree-era fans and their new younger supporters. Fair enough, some people would rather hang at the back than dance in the pit, but the constant condescension on display left a sour taste in my mouth. It's not like these teens had an Ipad out in front of anyones faces or were drunkenly looking for a fight - they were simply having fun with their friends. Who are we to say how any individual should go about enjoying music?
There is a typical kneejerk reaction in certain quarters of the internet to dismiss the opinions of fangirls as frivolous; the kind of adoration that should be reserved solely for boybands with good hair. But to frown upon this area of fandom is to dismiss large swathes of supporters who are perhaps the most passionate and vocal about your favourite bands and are often the ones to launch them on to larger stages and success.
Keep on fangirling fangirls!