Is Waiting At Airports For Artists Really A Good Thing?
After Brendon's anxiety attack and Dan and Phil's regular mobbing, is it time to draw a line when it comes to baggage claim selfies?
Meet and Greet sessions? Too expensive. Record signings? Queues are too long. So where do fans go when they want to get a prized picture with their favourite personality?
The airport of course.
Bridesmaids
In a trend that has increased significantly over the past couple of years, groups of fans have begun sharing flight details of their faves online so they can meet them as they land and run alongside them through the security gates, filming the whole thing to throw online the minute they get home. In fact, in certain cases, hundreds of these kids will show up at any one time, turning the whole event into a party right in the centre of the terminal.
It's a strange phenomenon (why would you willingly go to an airport unless you had a flight to catch? Do you get a craving for a TGI Friday's novelty cocktail at 6am?) but fans now line up hours in advance just for a brief moment with their idol.
Sometimes, this can cause major problems. Panic!'s Brendon Urie suffered an anxiety attack when he was mobbed in Sydney as he arrived for some recent tour dates.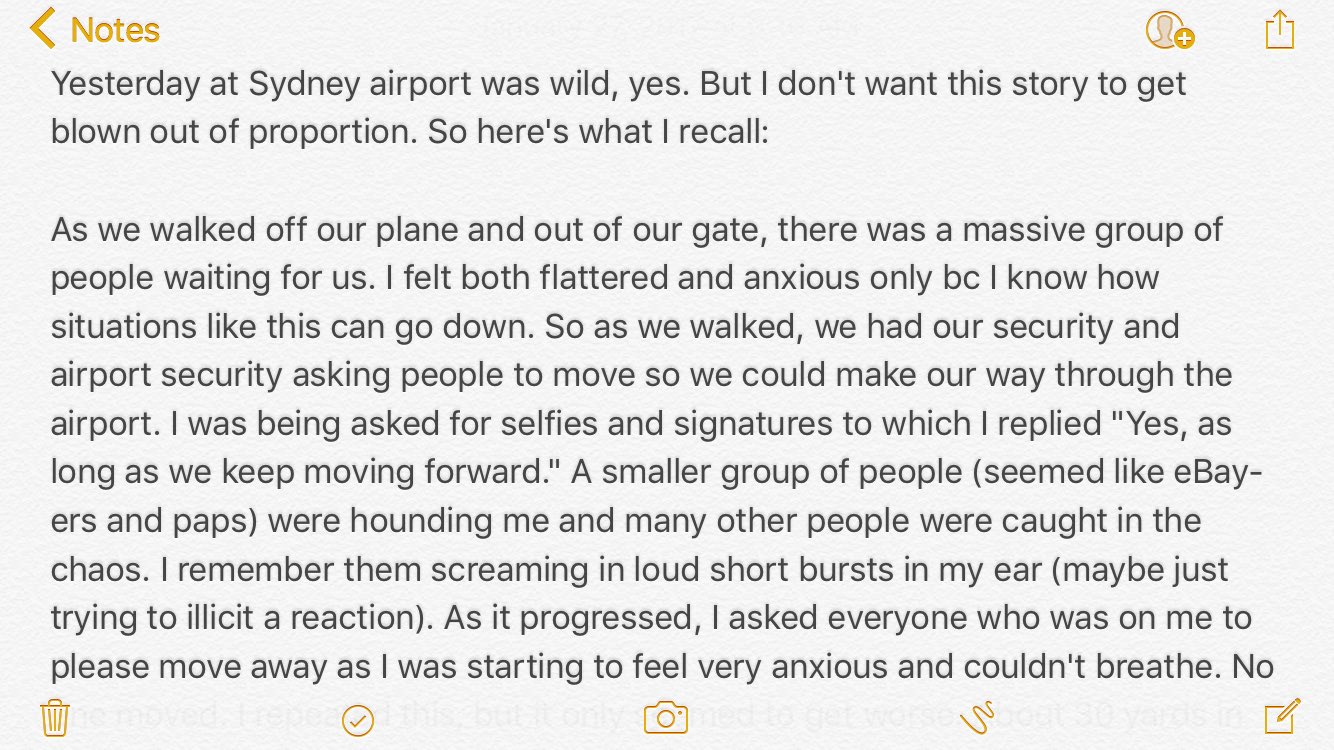 Twitter: @BrendonUrie
Similarly, Lauren from Fifth Harmony broke down in tears upon her arrival after a flight last year.
Crucially, following incidents like these, many fans have been quick to call for the end of airport selfies:
don't! take! advantage! of! dan! and! phil's! kindness! they don't deserve getting stalked by fans at the airport !!

— kathy (@zyxtwts) August 24, 2016
Wow Dan and Phil look so excited to meet their fans at the airport!!pic.twitter.com/z81wPVrRiV

—//ia bc skl (@kamiekazooie) August 24, 2016
But, however well intentioned, the crowds are still gathering every single time.
Even when there is no mob mentality, an airport fan session can still make for an unpleasant experience. There are countless videos online of Little Mix, Zayn, Justin Bieber and others looking understandably shattered after jetting in on the red eye only to be greeted by an endless sea of cameras - hardly welcoming is it?
Then there's fan disappointment, 5SOS' followers left feeling disappointed in Glasgow a couple of years ago after the boys were simply too behind schedule to pose for any snapshots.
Of course, rockstars getting mobbed for selfies with their fans is not a new phenomenon by any stretch. Michael Jackson brought central London to a standstill back on the Bad Tour in 1988. The Beatles famously had hoards of girls waiting for them at JFK.
But these events were still few and far between compared to 2017 where every celeb under the sun is going to be begged for a shot to show off on their Instagram.
Often, it's parents who enable this kind of extra behaviour. Recently, we reported on Panic! At The Disco road manager, Zack, calling out a young fan who had been hanging around Brendon's home and effectively following around him and his wife Sarah with the girl's mother driving her around in order to get better pics of their car.
Twitter: @PointlessBlog
YouTubers Alfie Deyes and Zoella have long suffered similar problems after the address of their Brighton home was leaked online. They have since posted semi-regular updates on the lengths certain parents will go to just to ensure their child gets a selfie with their fave vlogger.
Not cool parents. Not cool.
Of course, there are countless more stories of positive parenting when it comes to fan interaction. 1D spawned many Facebook groups where Moms and Dads could connect and hang out while their little ones screamed their lungs out during a show. And we encountered several TØP Dads when Tyler and Josh rolled into town.
It's all very sweet and it's great to see families finding shared interests like this. But it's important to know where to draw the line.
So, fans if you are thinking of meeting your fave, make sure it is in a pre-approved meet and greet or somewhere they actually want to meet up. And parents of fans, make sure if your darling child wants a ride to the airport, it's because they actually have a flight to catch!
What do you guys think? Are airport selfies OK or nah? Let us know in the comments on Facebook.