GRAMMYS 2017: 11 Wildest Moments From The 59th Grammy Awards
Wtf.
The Grammy Awards never fail to produce a little bit of drama and the 59th Grammy Awards tonight in Los Angeles didn't disappoint.
1. Let's start with the fashion, or lack thereof.
GETTY
2. A 'How To' Guide In Alienating People by Joy Villa.
This won't back fire at all.
3. Ceelo Green did...this.
GETTY
You okay, hun?
4. Rihanna's secret performance went down a storm.
rih gave the performance of the night tbqh pic.twitter.com/wyiGqFhMf4

— Tyler Oakley (@tyleroakley) February 13, 2017
5. TØP pulling their trousers down and this guy getting creeped out.
this guy on the left is like what the actual fuk #GRAMMYs pic.twitter.com/3a9u19Gbvx

— Luke Oxendale (@lukeoxendale) February 13, 2017
6. Rihanna swigging from a diamond-encrusted hip-flask throughout the duration of the evening.
Rihanna drinking out of her diamond encrusted flask & passing it around is my mood pic.twitter.com/l54WGvjjqg

— nañi (@pettyblackgirI) February 13, 2017
7. Beyoncé carelessly tilting on a chair at a 45 degree angle while pregnant with twins, giving the entire planet heart palpitations in the process
I wish I could trust a man as much as Beyoncé trusted this chair pic.twitter.com/rSsjIqdOp6

— Lex (@lexusmperezz) February 13, 2017
8. This Awkward AF group Carpool Karaoke rendition of Neil Diamond's "Sweet Caroline"
James Corden with carpool karaoke #Grammys pic.twitter.com/65n59BiCdd

— Janine Joyce (@Allenandjanine) February 13, 2017
9. Blue Ivy taking a few moments from listening to her mother's acceptance speech to show of her spangly purse to her pal while simultaneously out-Princing the official Prince tribute performer, Bruno Mars.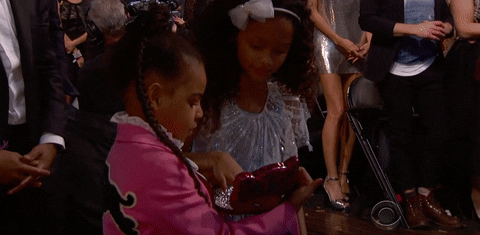 10. Gaga continuing her current penchant for leaping off things - this time, into a crowd surf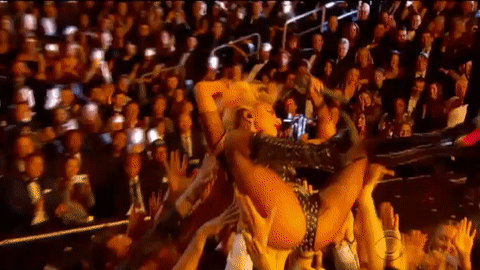 11. Adele's Album Of The Year trophy breaking in half after she dedicated her win to Beyoncé because the very universe itself knows that BEYONCÉ WAS ROBBED
Two little rays of sun #Adele #RyanTedder #GRAMMYs pic.twitter.com/a8chdDn5se

— Federica (@federikca97) February 13, 2017
What were your favourite moments from the Grammys? Tell us in the comments below!