7 Reasons To Lose Your Mind Now "Hamilton"s Coming To The UK
24 October 2016, 17:00 | Updated: 8 May 2017, 17:09
Hamilton is coming to the West End and we NEED to get tickets...
"Hamilton", the record-breaking, revolutionary Broadway sensation, has finally confirmed that it is coming to the UK!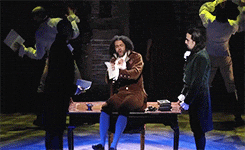 LITTLEREBELLIONTHATCOULD.TUMBLR.COM
The show will open in London's West End in November 2017, with pre-sale tickets available this January. Demand is so high for tickets in New York that performances are sold out for the rest of the year and prices for premium seats have stretched to almost $1500.
So, why has this news got us so excited? Let us fill you in...
1) The music is LIT.
Seriously, the Broadway soundtrack was the greatest hip hop album of 2015. Taking in elements of musical theatre, R'n'B, jazz, funk, Beatles-esque pop and Beyoncé-level attitude, the album has been a huge crossover hit on the US charts, and rightly so. You'll have all of the many HUGE songs stuck in your head for weeks. In fact, the tunes are so good that an upcoming mixtape version of the cast album is set to feature Nas, Chance The Rapper, Busta Rhymes and many, many more contemporary big hitters. You don't get that with a revival of Cats.
2) It's socially aware.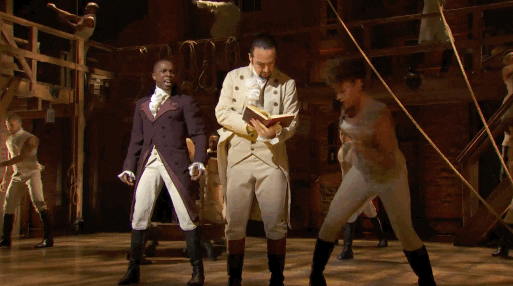 GRAMMYS
Not only does the tale of Alexander Hamilton have so many parallels with America's current discussion over immigration, the cast reflects the modern makeup of the country. The colourblind approach to the characters paints a multi-cultural image of the US completely in tune with the current political conversation, as well as opening conversations about the amount of roles open to ethnic minorities on stage.
3) It's completely new.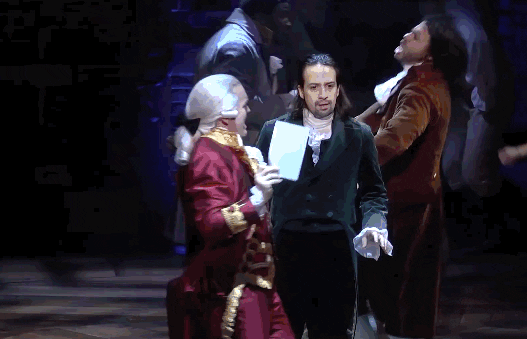 MICDOTCOM.TUMBLR.COM
The current crop of musicals on both sides of the Atlantic consists largely of film or book adaptations you know and love already. This is the kind of show that has never been attempted before, combining the story of how America came to be from the perspective of Treasury Secretary Alexander Hamilton with modern music, bringing history to life in an intricate mixtape that will send you running to the political biography section of your nearest bookstore. It's not many shows that can turn a cabinet meeting into a rap battle and make it work.
4) Ham4Ham.
Lots of Broadway and West End shows now run a ticket lottery, allowing members of the public to pick up last-minute cheap tickets to sold out performances. But, only "Hamilton" treats the fans lined up for the lottery to a mini-show right in the street, featuring stars from the show, famous friends and special guests, eventually becoming so popular that it caused a traffic build up. Over the winter months, the show and lottery moved online, crashing the website instantly. Hopefully London's streets will be similarly brought to a standstill.
5) All our faves love it.
"(Hamilton) reminds us of the vital, crazy, kinetic energy that's at the heart of America." - @POTUS @BarackObama

— Hamilton (@HamiltonMusical) November 4, 2015
The list of famous "Hamilton" fans is far too long to run through but a selection of notable audience members thus far have included President Obama, Prince, Beyonce, Jay-Z, Amy Schumer, Steve Martin, Kerry Washington, Lea Michele, Jimmy Fallon, Jennifer Lopez, Lena Dunham, Aaron Paul, Alicia Keys and many, many more.
6) It's won a TON of awards.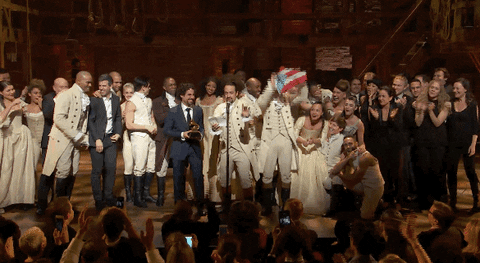 GRAMMYS
Having already won a Pulitzer prize, a Grammy and numerous critical plaudits, the show also swept the board at this year's Tony Awards, where it was nominated for pretty much everything including Best Musical and all major acting awards. The hottest ticket in New York just got even hotter.
7) Lin Manuel Miranda might come over.
The show's charismatic creator and star has been seen on all manner of late night TV shows, most recently in James Corden's "Carpool Karaoke", always proving to be an entertaining figure. In the past, there have been rumours that the entire Broadway cast could make the move to London for the big opening. Lin has already exited from the New York show, and will be based in the UK for the next year or so as he films the new Mary Poppins sequel opposite Emily Blunt. Fingers crossed...
The Hamilton soundtrack is available now on all good streaming services. Get on it!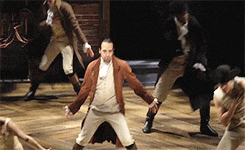 MICDOTCOM.TUMBLR.COM