How Katy Perry Went From Problematic AF To Woke
She's come a long way since 'Ur So Gay'
Katy Perry is back with a brand new single, Chained To The Rhythm. On first listen it sounds like your typical pop bop. But underneath the breezy synths and Katy's unmistakable California-girl vocals, the song has a hidden meaning. The chorus is particularly cutting, pointing out that we're all just blindly accepting the world and all it's injustices, "like wasted zombie":
Turn it up, it's your favorite song
Dance, dance, dance to the distortion
Come on, turn it up, keep it on repeat
Stumbling around like a wasted zombie
Yeah, we think we're free
Drink, this one is on me
We're all chained to the rhythm
That's right. Katy Perry is woke now, and she wants you to know about it.
We gonna call this era Purposeful Pop. https://t.co/fCllqtlRTm

— KATY PERRY (@katyperry) February 10, 2017
But it hasn't always been this way. This may be the era of Purposeful Pop, but it wasn't so long ago that "Prejudiced Pop" would have been more accurate. And the receipts are splattered all over the internet.
2008 - The "Gays are HILARIOUS!" Era
Katy Perry's debut single, I Kissed A Girl, caused a storm with it's then-provocative lyrics about lesbian kisses which "felt so wrong" but also "felt so right," according to the lyrics. It would have been a pretty cool song about sexual fluidity, if Katy Perry wasn't 100% heterosexual and just playing on sexy lesbian stereotypes for PR.
Not content with faking bi-curiosity for airplay, Perry then went on to release her musical ode to homophobia and suicide jokes, Ur So Gay. With insightful lyrics such as "I hope you hang yourself with your H&M scarf/While jacking off to Mozart" and of course the wonderful chorus, "you're so gay, and you don't even like boys," Ur So Gay is the sort of song what would kill a career off in 2017. Luckily for Katy (and unluckily for gay people or people with mental health issues), 2008 was a Twitter-free, less enlightened time.
Giphy
2012-13 - The "LOL Asianz" Era
Five years on from Ur So Gay, Perry was still hawking silly stereotypes in her performances - this time, from the Eastern Asian community. Her performance of Unconditionally at 2013's American Music Awards made headlines for all the wrong reasons, with accusations of cultural appropriation made after she appeared on stage dressed as a geisha. It was pretty galling to see such a huge pop star wear Japanese culture like a costume, particularly as less than a year before she told Jimmy Kimmel, "I'm so obsessed [with Japanese people] I want to skin [them] and wear [them] like Versace." Not the most respectful way to talk about an entire nation of people, Katy.
Perez Hilton
2014 - The "Black People are LOLZ" Era
This Era saw Katy experiment with making fun of black people. From back up dancers fitted out with exaggerated lips and butts on the Prismatic Tour, to munching on watermelon and gelling down her baby hair in the This is How We Do video, Katy spent a substantial chunk of 2014 plucking out the most stereotypical ideas about black culture and shoehorning them into her music for literally no reason whatsoever. All of this was made even more painful by the fact she tweeted "ALL LIVES MATTER" - widely considered an ignorant response to the very important Black Lives Matter rallying call that has been used to protest police brutality against black people in America. It wasn't cute.
If I could, I would be there laying in those streets of NYC, peacefully protesting. WE HAVE TO CHANGE. ALL LIVES MATTER #WeCantBreathe

— KATY PERRY (@katyperry) December 4, 2014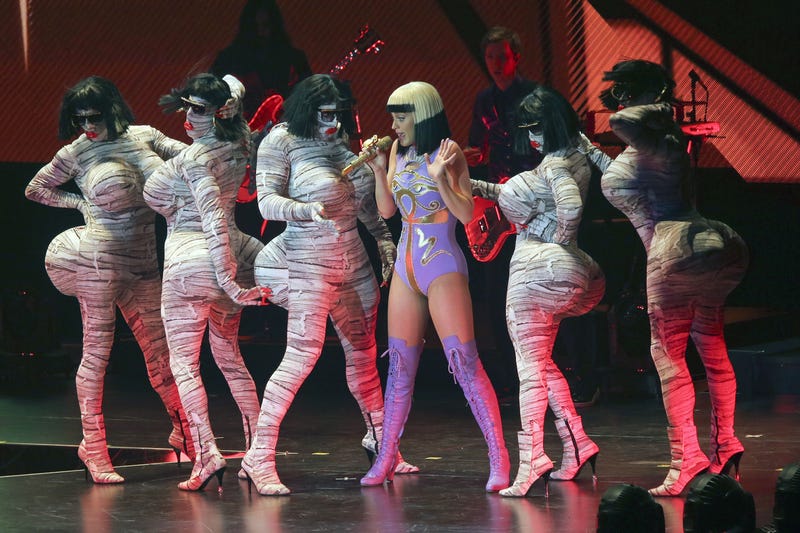 Jezebel
2015-2016 The Political Awakening Era
Katy only seemed to develop a sense of cultural chill in 2015. Her Super Bowl half-time show was exciting, inventive, and best of all it didn't use other cultures as a punchline or accessory. And in 2016, Perry underwent a bit of a political transformation - thanks to the US Presidential race.
The singer used her stardom to encourage people to vote, through a hilarious albeit slightly confusing Funny Or Die video, in which she attempts to vote in the nude.
But it was after Donald Trump won the US elections that Political Perry really came out to play. Clearly not a fan of Mr. Trump, Perry ordered the America to MOVE - which is pretty cheeky considering she'd spent the first eight years of her career mocking any culture that she laid her eyes on.
Do not sit still. Do not weep. MOVE. We are not a nation that will let HATE lead us.

— KATY PERRY (@katyperry) November 9, 2016

Then, on New Years Eve 2016, the she sent out a mysterious tweet, hinting that change was coming.
2017 resolution: to embody authenticity!

— KATY PERRY (@katyperry) January 1, 2017

It's a pretty interesting tweet, considering all of the cultural appropriation that had defined her career up until now. Was Perry finally understanding why people weren't into the Geisha costumes and gay jokes? Was she finally ready to take the stage as a politically active pop star? Was it all just new branding?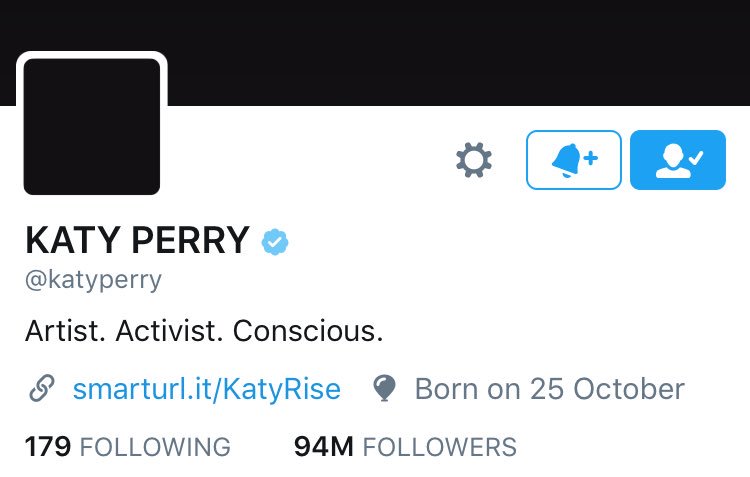 ATRL
2017 - The Woke Era
This year has seen Perry start to really talk about her political beliefs confidently. She joined the Women's March, spoke out against policies she doesn't agree with, and has even tweeted about her "evolution" - suggesting she knows she hasn't always been the most socially-aware pop star on the planet.
SISTERS ARE DOIN' IT FOR THEMSELVES! https://t.co/0shuUYUBEv

— KATY PERRY (@katyperry) January 10, 2017
Evolution right on track... https://t.co/Xmx88nMusT

— KATY PERRY (@katyperry) February 10, 2017

Where Perry will go next remains to be seen. If people are a little cynical about her transformation you can understand why, given all the mishaps and gaffes she's had on her journey to consciousness. But hopefully this is just the start of a brand new Katy Perry - a pop star who uses her fame to help other cultures, rather than mock them.
Watch the lyric video for Chained To The Rhythm Below: