Is Nicki Minaj A Hypocrite?
18 December 2015, 12:26 | Updated: 8 May 2017, 17:09
The rapper is set to perform a private show for an Angolan dictator, but is she wrong to do it?
Nicki Minaj is one outspoken artist. The rapper and singer has an opinion about err-thing and isn't afraid to share it with the world via Twitter, through interviews, on stage or anywhere she has a platform, tbh.
However, there seems to be some trouble brewing for Camp Minaj. Nicki is set to perform a private show at a Christmas party for a company called Unitel in Luanda, the capital of Angola.
What you might not know is that Unitel is owned by the family of Angola's long standing 'president' José Eduardo dos Santos, who has been in power for over three decades.
According to human rights organisation Amnesty International (as reported on The Daily Beast), Dos Santos' regime has become a place where those that have challenged the government have been "subjected to extrajudicial killings, forced disappearances, arbitrary arrests and torture", while "[a]uthorities continue to use repressive tactics including... harassment and intimidation to suppress freedom of association, peaceful assembly and expression".
Essentially, Dos Santos and his 'government' are bad news.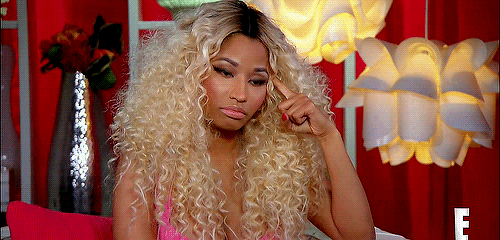 http://fuckyeahmeeko.tumblr.com
Activists The Human Rights Foundation have apparently reached out to Nicki Minaj and her managers to discuss her upcoming show, but (unsurprisingly perhaps) they have yet to receive a response.
Now, this isn't the first time that a musician has been called out for performing, or agreeing to perform, in less than savoury environments. In 2011 bird enthusiastic and promiscuous girl Nelly Furtado was pressured into donating a $1 million fee she earned to charity after performing a private concert for the family of known villain Colonel Gaddafi. Beyoncé has also been involved in a scandal relating to the Gaddafi family.
Likewise, Kanye West has also been involved in his own controversy surrounding a gig he performed for Kazakhstani president Nursultan Nazarbayev at the dictator's son's wedding. And J Lo has also been whipped up into a storm regarding a gig she performed Turkmenistan's leader Gurbanguly Berdimuhamedow.
While most of these artists have apologised for their mistakes and donated their (substantial) fees to charity - mostly due to pressure from The Human Rights Foundation - according to The Daily Beast Nicki's camp is yet to make a comment.
Thor Halvorssen, the president of The Human Rights Foundation, said to TDB that Nicki's decision seriously calls into question her socio-political beliefs and behaviour. "Black lives matter," he said, "unless those black lives are living under a dictatorship in Africa."
Of course Nicki Minaj has the right to earn money how she wants to; she is free (unlike the people of Angola) within the constraints of capitalism to do it by any legitimate means she can.
However, where is the line? Should we be concerned where artists are making their money, even if that money is, for want of a better phrase, dirty? We feel it certainly calls into question the morality and ethics of those artists that appear, on social media anyway, to support various groups and causes.
In this case, does it make Nicki Minaj a hypocrite?