Here's How To Talk About Kanye's Launch Show Without Actually Watching It
12 February 2016, 11:20 | Updated: 8 May 2017, 17:09
All you need to know.
Professional troll and hip hop mastermind Kanye West launched his latest fashion line and new album in an event at Madison Square Garden, livestreamed across the world via Tidal.
But hey, you're busy people, you don't have time to wait for Tidal to load just so you can watch a bunch of people stand still in a room. So, we've put together a list of notable moments from the show you can tweet about to make it seem like you were actually there. Yep, its Yeezy Season 3 - the "Too Long, Didn't Watch" breakdown.
1) We saw some new clothes.
Variety
Tidal
And the models looked somewhat moody, as per Kanye's many, many instructions.
model instructions from #YeezySeason3 - 50% sweet, 20% psychopathic and 30% pretty solid life advice pic.twitter.com/jfOPwralip

— Charlie Robin Jones (@charliexjones) February 11, 2016
But Naomi Campbell showed up, which is fun.
the fader
2) We heard some new songs.
When he wasn't struggling to work his AUX chord, Yeezus treated us to cuts from his new record The Life Of Pablo which featured guest appearances from Sia, Rihanna, The Weeknd and Chance The Rapper to name a few. Kanye's claims that this is a gospel album are also not unfounded with the opening track featuring a choir going full out.
Some of the songs were also, thankfully, very good.
Variety
3) There are a few questionable lyrics.
I feel like me and Taylor might still have sex Why? I made that bitch famous God damn I made that bitch famous.

Famous
Not cool bro. See also this:
I bet me and Ray J would be friends If we ain't love the same bitch Yeah, he might have hit it first Only problem is I'm rich.

High Lights
So there's that.
4) Kanye launched a video game about his mother ascending into heaven.
It was oddly emotional. Seriously, Kanye takes a lot of sh*t for his outlandish behaviour but, all joking aside, we are very excited to play this.
5) There was a rare Frank Ocean sighting.
Breaking news. Frank Ocean is still alive and is spotted at the #YeezySeason3 show! pic.twitter.com/dFqAbsm8dh

— Emi (@FashionWearBook) February 11, 2016
#FrankOcean at #KanyeWest 's #YeezySeason3 fashion show pic.twitter.com/laWgh3sJf4

— CreateLex (@CreateLex) February 11, 2016
Let's hope he sticks around.
What Frank Ocean did once #YeezySeason3 ended: pic.twitter.com/0DEKSubBPg

— Odd Future (@OddFuturePage) February 11, 2016
Oh, wait, nevermind.
6) Anna Wintour looked bored as hell.
anna wintour FTW #YeezySeason3 pic.twitter.com/15WoFtyvPe

— Maxwell Strachan (@maxwellstrachan) February 11, 2016
Come on Anna, get on board!
7) The Kardashians had a ball.
Gigi no #YeezySeason3 com a Kim, Kylie, Kendall, Bella, Khloé, Kriss, etc. pic.twitter.com/4Gk5H8M4kr

— ZIGI BRASIL (@ZIGINewsBR) February 12, 2016
Turnt Up!
8) We've still got no idea when the album is out.
Hopefully today but no release date has been announced. Maybe Tidal will just accidentally leak it like Anti. Fingers crossed.
9) Martin Shkrelli is a douchebag.
Here is my initial offer for the album. @kanyewest Thanks for your consideration and I look forward to your response pic.twitter.com/opJ7mlfraK

— Martin Shkreli (@MartinShkreli) February 11, 2016
But hey, you already knew that!
And that's about it.
As with everything Kanye-related, it was a little bit crazy, a little bit controversial but, crucially, never boring.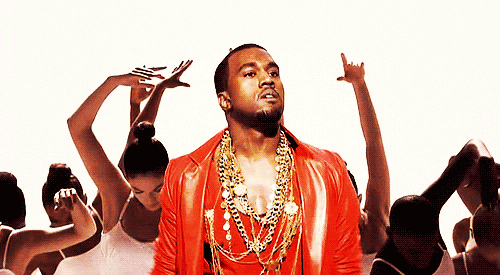 JUNIBIE.TUMBLR.COM