How Lady Leshurr Low Key Released The Best Video Series This Year
30 December 2015, 11:53 | Updated: 8 May 2017, 17:09
We watched Lady Leshurr all year long and now we're bald.
Lady Leshurr has made huge gains over the last 12 months. She's gone from making high quality, yet relatively obscure, music videos, to having one of the most highly anticipated series' in British rap music. She's had a bright 2015, but 2016 may be the year Lady Leshurr breaks firmly into the mainstream.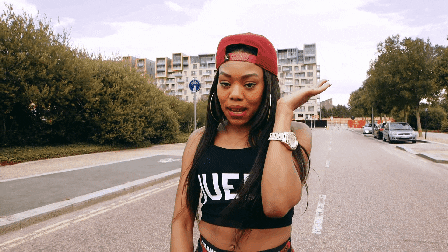 Just in time for the festive season, Lady Leshurr has offered up the fifth part in her Queen's Speech series as the perfect closer to the year. Armed with a sharp tongue, on point cultural references and a "crizzpy" crop top, Leshurr riffs on everything from Miss Universe to DJ Khalid. The strategy behind the Queen's Speech series is genius. Aside from making great "content", Queen's Speech has built a hyper responsive audience of millennials who, like Leshurr, live mainly on the internet. She makes constant reference to well known memes, sayings, and social media platforms. All while avoiding the corniness associated with people who make similar references.
Lady Leshurr's videos are simple. The don't have storylines and they mainly feature the rapper energetically gesticulating to her music. But they often have a hook. Queen Speech 3 featured the cringey line "change your panties". Queen's Speech 4 was all about the "brush yo teeth" movement. Number 5 features themes of "crizzpy bacon". They're not very complex, but when framed around memes and cultural movements, these often nonsensical declarations tend to stick.
I've changed my panties and brushed my teeth. I think I'm ready for Queen's Speech 5 now. @LadyLeshurr #QS5

— Shivaliiiiiiiii (@ShivaliChavda) December 29, 2015 It's unclear whether Lady Leshurr plans to continue the Queen's Speech series in 2016. The nearly year long project has raised her profile by leaps and bounds and what she needs next is a solid record deal and some Vice coverage to make sure she makes the big midsummer festivals. Since 2009, Leshurr has released 9 mixtapes and 3 EPs. Now, with the momentum of the Queen's Speech series, she may be in the perfect position to become a household name.
Vogue online called her "the hottest british female rapper" and Alexander Wang chose QS3 as the soundtrack to his SS/2016 fashion week show this year. What's next for Lady Leshurr? By the looks of it, pretty big things thanks to the Queen's Speech.
Peep Queen's Speech part 5 below