A Pop Punk Revival Is On Its Way And We're Not Ready
11 August 2016, 17:20 | Updated: 8 May 2017, 17:09
*dusts off Fueled By Ramen hoodie*
There is a very good chance that, as a music spectator, you may have noticed something brewing. It's been slowly and steadily building momentum and now we're at the point where it's getting pretty hard to ignore.
Pop punk is coming back. I know what you're thinking. Did it ever leave? The answer to that is complicated and best explained over a brief pop punk history lesson and a set of well placed GIFs.
Let's go back to the year 2005.
More than a few seminal albums were released that year. Fall Out Boy's From Under The Cork Tree saw its glorious debut; Panic! At The Disco's A Fever You Can't Sweat Out gave us lyrics to shout at Warped Tour; and Paramore's All We Know Is Falling had us utterly falling for the female fronted (then) five piece.
A critical nexus of pop punk had been formed. Couple that with the fact that Green Day's American Idiot and My Chemical Romance's Three Cheers For Sweet Revenge had been released the year prior and we're looking at a pressure cooker of eyeliner and misplaced aggression.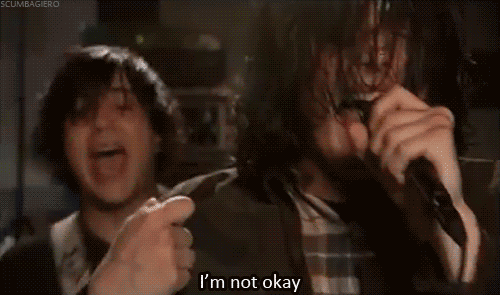 The next few years would signal a pop punk reign so thorough that even Kevin Lyman's accountant's accountant could feel the impact.


Fast forward to 2016
Fall Out Boy, Panic! At The Disco, and Blink 182 have all released albums in the last 24 months. Rumblings of a My Chemical Romance reunion haunt our every waking moment. New Green Day is finally here. And even Paramore rumors are a weekly occurrence now.
It's happening. The planets are re-aligned, the pop punk Gods have been appeased and we are in the midst of our very own pop punk revival.
Don't act so shocked. What do you call it when BOTH Good Charlotte and Simple Plan release new music in the same year? One is a coincidence. Two is a major sign from The Powers That Be.
So, what should you do to prepare for this revolution?
For starters, get your financials correct. You're going to be spending a lot of money on concerts.
Secondly, you can expect some good ol' fashion hoaxes and rumours. We've already seen it with My Chem, and, with the planets aligned the way they are, we can definitely expect more.
Thirdly, let it consume you. It doesn't matter if you weren't fully a part of the last pop punk revolution of 2005. EMBRACE WHAT'S COMING. Stand at the shore's edge and feel the power of that pop punk angst sweep you into the proverbial sea.
*dusts off Fueled By Ramen hoodie*.