How Do We Solve Pop Punk's Sexism Problem?
25 May 2016, 16:07 | Updated: 8 May 2017, 17:09
Let's get practical and finally solve this problem once and for all.
OK pop punk kids, we need to figure something out. Together.
MTV
Yesterday (May 25th) we reported on Candy Hearts' lead singer Mariel Loveland's accusations of physical and verbal abuse against her former tour manager. She closed her lengthy and emotional essay with a plea to the pop punk community at large.
Here's the thing: It is never, ever, okay to lay a finger on another person, even if they're a girl infiltrating your little circle of fun-loving bro-dudes at a pop punk show...tell me, why does no one stand up for the girls in our scene and make it almost impossible to stand up for ourselves? I'm not saying he should be fired from his job or that I want his life ruined. I'm saying he needs to be held accountable. He needs to seek help and know how he affected people. In an industry where we don't have HR, we're responsible for keeping it safe.

Mariel Loveland
UPDATED 27/05/16: Zach Chad, the tour manager, has since denied any of the claims against him. Read his full statement here.
In the last few years, we have seen multiple accusations of abuse, sexual misconduct and worse thrown at various band members in prominent outfits. This isn't just an isolated incident anymore.
Sure, we sadly live in a world where mistreatment of women is not just confined to one genre of music, Kesha's current struggle being the obvious mainstream pop example. The difference of course is that you can still see many of this scene's offenders at major pop punk festivals and tours, their actions, as Mariel says, unaccounted for and largely unspoken of.
Candy Hearts
This pattern of disrespect has many different outlets. The stereotype of pop punk lyrics revolving solely around girls who are "bitches" who broke your heart may have died out among the bigger hitters but it's still audible in many of the grass roots acts with burgeoning young fanbases.
More recently we have, of course, reported on Parker Cannon's famous kicking of a selfie-taking girl off stage, a viral video of which caused uproar and righteous indignation on the part of both horrified onlookers and vehement defenders of the scene. Our comments section was rammed with TSSF fans claiming that this girl somehow deserved to be drop kicked, that she should have expected it at a pop punk show or that he had previously lashed out at a male fan and this somehow made it OK. Safe to say, it made for disappointing reading.
However, there is hope.
roxlovesdance.tumblr.com
Yesterday, following the Candy Hearts story, I found myself in the Reddit pop punk thread reading many positive and encouraging comments not only condemning the actions of Mariel's abuser but also looking actively for solutions to this increasing visible problem.
So, what can we as a pop punk community do to stop the sexist attitudes and stereotypes from spreading?
Here's some practical steps forward we think could genuinely help improve the situation.
1) Shut down the haters.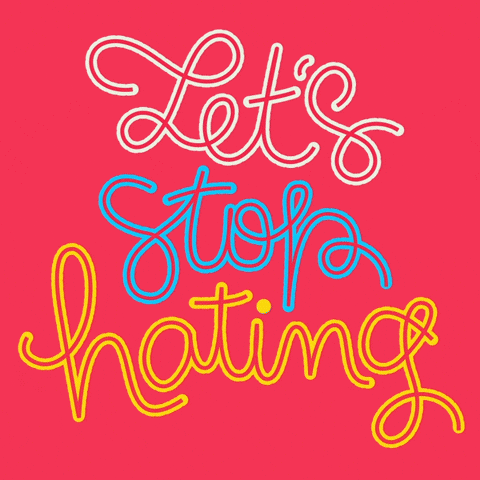 WWW.MINENY.COM
In any situation like this, the angry minority has a loud voice. They make their views clear in every internet forum and Twitter rant, defending blindly anyone who has done wrong on the misguided basis of "defending pop punk". The real fans who feel the scene should be welcoming to ALL need to therefore be just as loud in saying we won't tolerate this behaviour. As I said above, the Reddit thread around Mariel offers an encouraging start.
2) Petition.
Warped Tour has come under a lot of fire in recent years for employing musicians accused of sexual misconduct, causing mass heckling in front of stages. That's all very well but it doesn't change the fact that they are still getting paid work in the community. The only way to change the game is to get organised and petition festivals that choose to employ bands of this nature. Let them know that, until they resolve their issues, there is no place for them at a show.
3) Offer support.
Tumblr
Tumblr will always be the outlet of choice for blogs such as Mariel's, acting as an unfiltered platform where she can openly discuss her story. But what about young fans who are vulnerable to mistreatment? Or the other female musicians afraid to speak out for fear of damaging their career. We as fans should take the lead set out by the always vocal Hayley Williams and be just as loud in our support for victims as in our condemnation of abusers.
What do you guys think? How can we finally, effectively combat this problem?