And PopBuzz's 'Song of The Year' Goes To...
19 December 2016, 14:43 | Updated: 13 December 2018, 12:47
30 of our favourite songs from 2016... all boiled down to one.
After the absolute catastrophic state of PopBuzz HQ following our Top 20 Albums of 2016 debate earlier this month, we decided to see if democracy can actually work. Prepare yourselves for the messy, the traumatic, the absolute nightmare that is... PopBuzz's 'Song of the Year' battle.
via giphy.com
We chose 30 of our favourite songs from 2016 and then painstakingly selected SIXTEEN to advance onto our magical, mysterious and mind-boggling 'Song Of The Year' bracket. We know what you're thinking, "Guys, this country doesn't need another petty referendum." And we say, you're right but we are as extra as they come.
The 14 songs that we LOVED but didn't make it onto the table include (in no particular order): MØ's 'Final Song', The Weeknd's 'Starboy', Little Mix's best song 'Touch', Major Lazer ft. Biebs 'Cold Water', Kiiara's 'Gold', Pierce The Veil's 'Circles', Alunageorge's 'I'm In Control', Dua Lipa's 'Hotter Than Hell', Bruno Mars' 'Versace On The Floor' (LOL), Neikid's 'Sexual', The 1975's 'The Sound', Rihanna's 'Kiss It Better', Solange's 'Cranes In The Sky' and Beyonce's 'All Night'.
To create a fair and unbiased competition, the remaining sixteen songs were then submitted into a playlist and shuffled to determine their place on the PopBuzz Song Of The Year bracket. Once that shuffle button was hit, the order of songs were set in stone and became bound by Jude law. (We would soon realise that we played our damn selves with this tactic.)
The tributes were called out and placed upon the board one by one. "It's like when the draw the f*cking FA Cup, innit", someone screamed at one point. And at the sound of the cannon, the 76th Annual Hunger Games officially began. (You can zoom on your device to read the brackets!)
Thanks to that snake of a shuffle button, four of the biggest songs of the year ended up squaring off against each other in the bloodiest of battles. 'Closer' vs. 'One Dance' and then 'Work' vs. 'Into You'. What kind of sick joke is this? Here are some choice quotes from the two key debates.
Woody: "'Closer' can die a slow death as far as I'm concerned"
James: "'One Dance' all the way."
Katie: "The beat on 'One Dance' makes me bop my head whether I want to or not. Involuntary head bops. CHECK."
W: "It makes me sweat."
W: "'Work' is like the slutty older sister and 'Into You' is like the overachiever who gets into Oxford."
K: "But ultimately ended up a hoe."
W: "THIS IS TOO HARD! Can we toss a coin?"
J: "NO COIN TOSSES!"
Surprisingly, the big battle in the PopBuzz situation room unfolded around Years & Years' 'Meteorite' and Lady Gaga's 'Perfect Illusion'. Extraordinary arguments were made in favour of both songs: "Did Olly Alexander's commitment to sequins mean NOTHING TO YOU?", "'Perfect Illusion' is iconic. Lyrically, it's an abomination but that guitar riff alone is worth the vote." In the end, the vote ended up in deadlock. With two votes each, we consulted our overseas colleague, Nicky, to cast the final vote. And she came through for Gaga. ROUND ONE ADJOURNED. (Rest in peace, Rihanna. ANTI doesn't deserve this.)
W: "This song (Perfect Illusion) has a motherfucking key change - WHAT MORE DO YOU WANT?"
K: "Something tells me Olly would be ok with this decision."
J: "Would he f*ck! You've just eliminated Rihanna too - you've destroyed him AND everything he stans for!"

Drake faces Beyonce. Gaga comes face to face with Camila Cabello & Friends. Ariana takes on the PopBuzz high-key faves… and The 1975 head into bloody battle with Twenty One Pilots. DUN DUN DUNNNNNN. *smirk emoji*
Ok, before you read this next sentence, please make sure your defibrillators are charged to 300. All five members of the PopBuzz cabinet voted against 'Heathens'. Yep, you read that correctly. 'Somebody Else' scored a unanimous five out five votes. Heathens is over. Sorry. Bye. After a hard fought battle in round one, Gaga picked up one vote against Fifth Harmony's four. Beyonce snatched the sadness right out of Drake's eyes. And after much deliberation, it was decided that 'Into You' was in fact a bigger banger than 'Girls Talk Boys'. DROPPING THE MIC ON ROUND TWO.
Emily: "This is EASILY 5SOS' best song and I think they should be awarded for good behaviour."
K: "No - Ariana stays. It's the best song of our generation."
J: "Thats a big fucking claim!"
K: "Ok yes, but 'Into You' makes me wanna go OFFFF!!!"
W: "Mmmm, it brought all the thots out of hibernation, after all."

Welcome to the semi finals. We have four players left in the ring - four of the BIGGEST songs of the year. Which two will emerge from the pits of despair alive? Facing off in the first round is Beyonce's woke AF anthem 'Formation' and Fifth Harmony's employment and chill banger, 'Work From Home'. To cut a long story short, the vote was sent to deadlock with the deciding vote falling at the feet of our meme queen.
K: "Beyonce snatched my weave with 'Formation' but Fifth Harmony changed my outlook on life."
W: "'Work From Home' is now the official national anthem for Freelancers."
E: "If 'Formation' came on you'd be like 'yeah' but if the other one came on you'd be like 'yeaaAAAHHHH!'"
The second semi final sees The 1975 face off against Ariana Grande. We were locked into a two against two fight to the death. It was like the Lannisters fighting against the rest of the Westeros - a glamorous and hard fought battle but ultimate, no chance in hell. That meant it was down to one vote. Here's how it all unfolded.
K: "'Into You' is from a GRAMMY NOMINATED ALBUM. The 1975 got a nomination for a BOX."
J: "THIS IS WHAT DEMOCRACY LOOKS LIKE!"
Rude.
This is it. The final. After an hour of side eyes, laptops thrown in disgust, subtweets and debating skills that Bernie Sanders would be proud of, we finally had our last two remaining candidates. 'Somebody Else' and 'Work From Home'.
E: *siren noises* "SOMEBODY ELSEEEEEEEEEE!"
W: "Work From Home the sex bop to end all sex bops though. I feel raw just listening to this song."
J: "It has to be Somebody Else."
K: "Mmmm, yeah but It's not a banger though..."
J: "It's not 'banger' of the year, it's SONG of the year!"
W: "Imagine how many babies have been conceived to 'Work From Home'…"
In the end, three votes were cast in favour of Matty Healy's magnum opus before 'Work From Home' even had a chance to perform a sickening death drop. Needless to say, certain members of the team felt defeated.
K: "Somebody Else does not have the cultural impact that 5H has!"
W: "Exactly, what would Brazil say about this? In fact, I'm messaging Brazil right now…"
As it is written, so it shall be done. The PopBuzz song of the year goes to… THE 1975'S 'SOMEBODY ELSE'.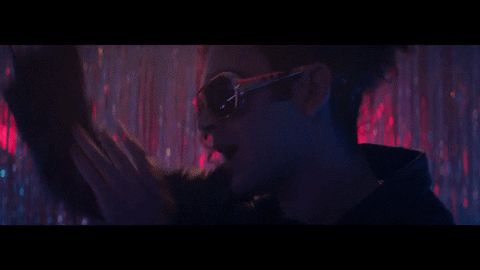 via giphy.com
E: *dabs* VICTORY *dabs* FOR *dabs* THE 1975! *dabs*
K: "Not a single election has gone my way this year."
W: "I can confirm that democracy does NOT work."
J: "The right track won. Just saying…"
"I feel like we're gonna need therapy after this."
___ ___ ___ ___ ___
Catch Zara Larsson on the #PopBuzzPodcast right now. Subscribe for free on iTunes to get new episodes sent straight to your phone every Wednesday.