How Prince Cheated Death Through Music
22 April 2016, 11:52 | Updated: 8 May 2017, 17:09
He may be gone, but the purple one can still be heard in every great pop song of the moment.
"Act your age mama, not your shoe size, maybe we could do the twirl".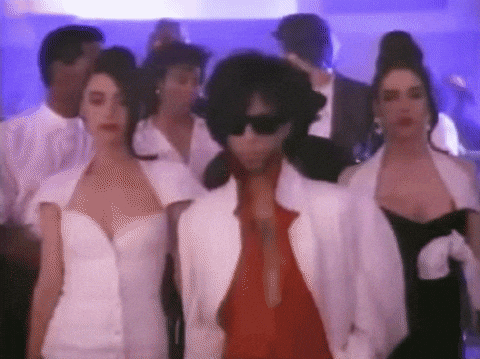 giphy
As musicians grow older, they are often tempted to reinvent themselves to fit the modern era; to grab the nearest high-flying hit maker or producer, drag them into the studio and pray that some of their magic might grant them the gift of eternal youth and chart relevance.
Sooner or later though, time catches up and the imperial phase ends, leaving the act's glory days tainted somewhat by their insistence on clinging to any passing fad; new singles are merely a dog whistle to the crowds at gigs to alert them that now is the time for a drink or pee break before the hits resume.
Prince does not face this issue in 2016. His legacy is so outlandish and wide-spread that his influence can be spotted across the entire music landscape of today. He's so far ahead of the game that, even in death, the kids are still playing catch up.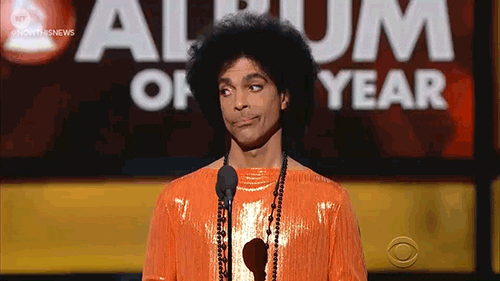 NOWTHISNEWS.TUMBLR.COM
And I do mean ALL of 2016 pop. The 1975's latest release wears it's minimalist Sign O' The Times synth stylings on its sleeve; CHVRCHES cited the purple one as a direct reference point for their new record; Frank Ocean, The Weeknd, Kanye West and Beyonce borrowed heavily from his R&B jams of the early 1980s.
Taylor Swift and Carly Rae Jepsen wrote entire albums reworking Around The World In A Day; every rock frontman and guitarist has studied his stage craft and impossibly high vocal technique.
He produced socially conscious, issues-led songs years before Formation; he tore down the Superbowl halftime show with a medley so white hot it made the interval the most coveted performance slot for every act in the world; he released albums free with concert tickets and newspapers, inventing the "surprise" drop that is now common practice; he twisted gender roles, created performance characters, directed movies and, in doing so, became an artist across multiple platforms in a pre-Internet world.
In short, he invented the modern popstar.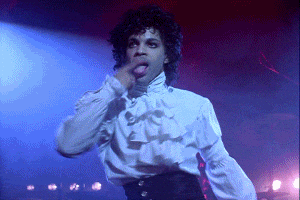 WWW.REACTIONGIFS.COM
If I had the time and web space I would go in-depth into every single one of the 39 (?!) albums he released in his 57 years on this planet, each one entirely different to the last with musical gems to be uncovered. But I, like I assume most of the readers of this will be, was not alive during the height of the great man's fame. So, what first drew me in was not the timeless quality of his best-known material but the lesser known output of my teenage years in the early 00s.
Prince had just been inducted into the Rock 'n' Roll Hall Of Fame in 2004 when Musicology was released, followed by 3121 two years later. Listening to them today I'm struck with the same thought I had at the time - this sounds modern but not forced. I recall a slight confusion as to how a song like Black Sweat could sound so similar to Timbaland's work with Justin Timberlake or the space funk of Outkast's The Love Below. Then you realise - they sound like him, never the other way around.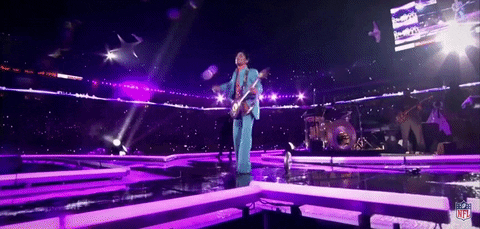 Giphy
Various video clips are currently flying around the blogosphere, most notably his aforementioned Hall Of Fame induction and a performance with two other lost legends, Michael Jackson and James Brown. But the performance I've had on a loop this morning is from another pop artefact of the modern era.
American Idol was at its ratings high in 2006 when Prince dropped by for the finale unannounced. The lights turned purple, he tore through two songs from a yet to be released album and promptly left the stage, leaving a babbling, shell-shocked Ryan Seacrest in his wake. Head honcho Simon Cowell was said to be livid that Prince didn't stick around to greet the contestants or be interviewed on stage to offer them advice. He missed the point. Prince had just given the kids all the education they would ever need.
Prince Rogers Nelson:
June 7, 1958 – April 21, 2016.
RIP you sexy MF!