Why Is SNL Still So Important For Live Music?
15 February 2016, 13:11 | Updated: 8 May 2017, 17:09
The show everyone wants to play.
This past weekend, Kanye West chose his performance on legendary late-night comedy sketch show Saturday Night Live to announce the immediate release of new, highly teased album The Life Of Pablo.
Kanye could have dropped this news at anytime - during his extravagant Madison Square Garden playback or in the middle of his latest twitter rant - so it is significant that he chose the stage at 30 Rock's Studio 6H to debut new material, aligning himself with an American TV institution that, even in the internet age, has managed to stay culturally relevant for over 40 years.
Primarily a comedy showcase, SNL's main focus, especially in the current election cycle, is on taking satirical swipes at the week's biggest news and pop culture stories, while allowing that week's celebrity host to put their funny bones to the test in as many silly outfits and wigs as possible. The standard varies week to week, host to host and year to year, but as cast members and writers move on, the program goes through its regular transition period and grabs the next generation of kids who are staying up late to laugh at the "not ready for primetime" players.
TVLAND.TUMBLR.COM
However, one thing that has always been constant is its ability to attract the biggest names in music as well as upcoming acts looking to make a big impact on US and, since the advent of YouTube, worldwide audiences. The captive teenagers glued to the TV at home make for the perfect potential fanodm, ready to tweet up a storm about the latest act to do something impressive in the interludes between sketches.
Prior to Kanye, the previous week saw The 1975 tear through two of their recent singles with a confident swagger worthy of their stadium dance forefathers INXS. To those sat at home previously unaware of their poppy guitar-based hooks, Matty's cheeky looks direct to camera will have announced their arrival in perfect fashion and no doubt encouraged many immediate pre-orders of their forthcoming album.
Other memorable performances from recent history include the live debut of "Uptown Funk", Bruno generating serious buzz with a slick dance routine lifted direct from the video that helped the track gather the momentum to take it up the charts.
The live nature of the show has also attracted controversy from certain guests, whether its Sinead O'Connor's ripping up of a photo of the pope or something tamer like Ashlee Simpson's famous lip-syncing fail, the possibility of the unexpected makes these performances appointment viewing for many.
But if musicians are really smart, they try and involve themselves in the other aspects of the show too, Justin Timberlake effectively now an honorary cast member, while the likes of 1D, Foo Fighters and, yes, Kanye have been known to get stuck in with the comedy material on their given week. Not only does this give them further air time, showing they have the ability to laugh at themselves can make them far more relatable to a youthful audience and open up their fanbase a great deal.
So, even in these dieing days of broadcast television, SNL has managed to provide a highly regarded outlet for musicians to show the world what they are made of, turning a simple mid-show time filler into an event.
Long may it continue.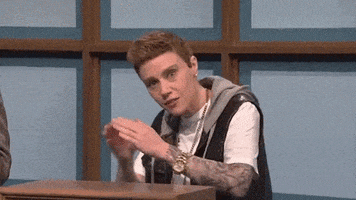 Giphy