These Are The Best 10 Pop Punk Albums Ever Released
19 August 2016, 10:17 | Updated: 8 May 2017, 17:09
Here it is - our definitive list. But has your fave got the Number 1 spot?
You may well have noticed that pop punk is having a BIG year.
Panic! hit number one, Blink 182 returned and people are partying like it's 2006 all over again.
But one big question has always remained - what are the greatest pop punk albums of all time? Well, we put together a list of our top 10 faves that should go down as essential listening for any pop punk fan. Let's take a look...
Oh, and if you don't agree with our list, you can vote for your own fave here.
10. New Found Glory - Sticks And Stones
Their self-titled album may have produced their first crossover hit in "Hit Or Miss" but it was this 2002 follow up that cemented their place at the top of the charts, producing two huge singles that benefitted from heavy rotation on MTV. Their bouncy, upbeat tone met with occasionally hard-hitting lyrics such as on "Sonny", a tribute to lead singer Jordan's grandfather.
Essential Track: My Friend's Over You
9. The Offspring - Americana
After the HUGE success of the classic Smash album, the So-Cal collective hit the studio with their eye on chart dominance, the notorious "Pretty Fly (For A White Guy)" hitting Number 1 around the world. But look beyond the famous pop hits and you find a band fully in touch with what made them so successful in their first place, with plenty of hard-hitting riffs and shout-along choruses in play.
Essential Track: "She's Got Issues"
8. Jimmy Eat World - Bleed American
Long before Taylor Swift was lip-syncing along to "The Middle", Jimmy Eat World were soundtracking the summer of teens everywhere, even hitting the road with their genre forefathers Blink 182 and Green Day for the legendary "Pop Disaster Tour". The band may have never quite matched the success of this undoubted career highpoint but those singles, from the pop chorus of "Sweetness" to the heavy riffing of the title track, live on beyond any Apple ad campaign.
Key Track: Bleed American (Salt Sweat Sugar)
7. My Chemical Romance - Three Cheers For Sweet Revenge
The world may still be freaking out over the imminent anniversary of goth-opera epic The Black Parade but it is the predecessor that set them apart as a unique voice in the pop punk community. Mixing darker themes and heavier sounds, the MCR boys took influence from the likes of The Cure and The Smiths and infused them with the genre's traditionally catchy choruses to create gold.
Key Track: "I'm Not Okay (I Promise)"
6. Sum 41 - All Killer, No Filler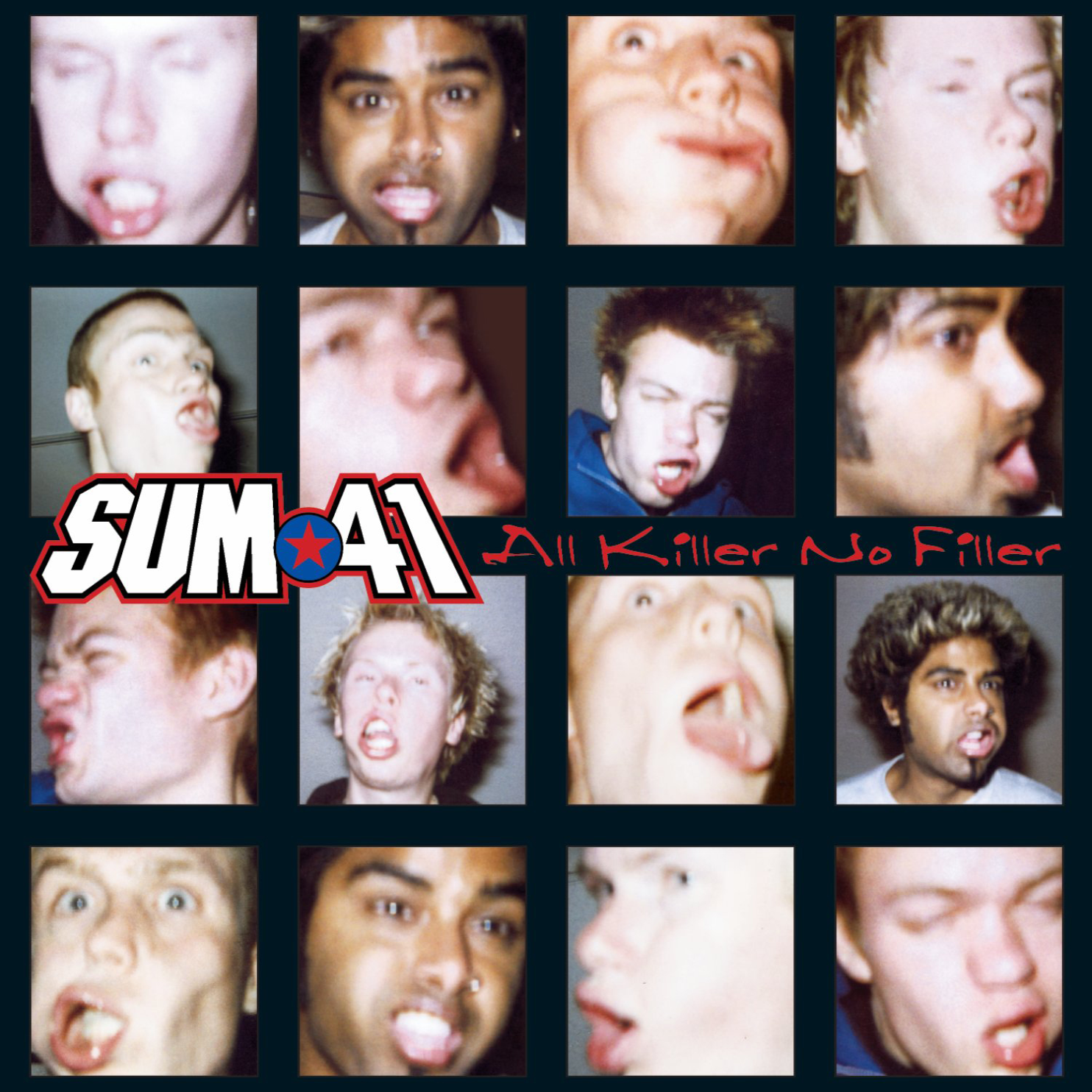 After their many years in the wilderness, it is easy to forget just how HUGE this album was. Selling an enormous amount of copies worldwide, the Canadian quartet suddenly shot to fame with the radio hit "In Too Deep", their scrappy, cheeky approach reminiscent of early Green Day. Their grand return with a new album this year will be worth the long wait.
Key Track: "Motivation"
5. Panic! At The Disco - A Fever You Can't Sweat Out
Long before Brendon became a solo artist, four Las Vegas-based school friends were taken under the wing of FOB's Pete Wentz and set out to add more theatrical elements into the pop punk genre. The jazz influenced "There's A Reason These Tables Are Numbered..." and "But It's Better If You Do" sit well alongside more straightforward guitar-heavy jams, the band, ironically, opening the door for future experimentation.
Key TracK: "I Write Sins (Not Tragedies)"
4. Paramore - Riot
Karaoke classic "Misery Business" will ensure their place in history on it's own but the likes of "That's What You Get", "Hallelujah" and "Let The Flames Begin" still light up any show and propelled the band onto the world stage. They may have since successfully expanded their sound into many different genres but this remains their pop punk benchmark.
Key Track: "Crush Crush Crush"
3. Fall Out Boy - Take This To Your Grave
Chicago's finest delivered an instant classic with their first Fueled By Ramen release, storming Warped Tour and even collapsing the stage due to the large crowds. Listening back, it's not hard to see why they became such an instant phenomenon, anthems like "Grand Theft Autumn" still acting as a staple of their stadium shows today. Tales of teenage rebellion at their finest.
Key Track: "Saturday"
2. Blink 182 - Enema Of The State
The big one. Say "pop punk" to your average person on the street and chances are they will reference this album. The band's domination of radio and MTV was inescapable in 1999 and their influence paved the way for the likes of New Found Glory and Good Charlotte after them. It is no coincidence that the band's most recent record, California, harks back to these earlier days of their career, their imperial phase where, for a brief moment, they were the biggest, most exciting band in the world.
Key Track: "What's My Age Again"
1. Green Day - Dookie
Still the largest selling pop punk album of all time, Green Day's major label debut produced a whopping 5 hit singles, all of which are considered classics in their own right. Improving upon the So-Cal sounds of The Offspring's Smash, the trio wove their tales of stoner boredom into rock anthems that spoke to a generation feeling lost and bored. They would repeat the trick again years later on American Idiot but it is here that the ultimate pop punk band earned their stripes and made basket cases of us all.
Key Track: "Welcome To Paradise"
Honorable Mentions
Bowling For Soup - Drunk Enough To Dance
Yellowcard - Ocean Avenue
Taking Back Sunday - Louder Now
AFI - Sing The Sorrow
Alkaline Trio - Crimson
Good Charlotte - The Young And The Hopeless
All Time Low - So Wrong, It's Right
Neck Deep - Life's Not Out To Get You
Did we miss out your fave? Add in your own below!