Two Door Cinema Club Are Back: 5 Things We Need To Know
4 January 2016, 11:17 | Updated: 8 May 2017, 17:09
They'll be home for THIS year.
It's been a long wait but, finally, it looks like 2016 will see the grand return of everyone's favourite Northern Irish indie pop three piece as Two Door Cinema Club sent out this new year's tweet to fans:
Happy New Year! Looking forward to sharing new music, new shows, new everything with you guys! TDCC x

— Two Door Cinema Club (@TDCinemaClub) January 1, 2016
New everything!
We haven't heard new music from the boys since the Changing Of The Seasons Ep in August 2013. So, while we wait just a little bit longer, let's speculate wildly about what to expect. Here's our burning Two Door questions:
1) Where have they been?
Largely absent from social media, we have grabbed every crumb of info that has fallen from the Two Door table but, apart from the odd DJ set and Alex's new-found love of photography, it's been hard to register how the extended break has fared for the boys. Hopefully, we'll get some answers when the album drops.
2) What festivals are they playing?
Appearances are already scheduled at Firefly, Hurricane, Southside and a headline slot at Arenal Sound so we can presume that there will be more added across the globe which is exciting given that they had to cancel their last festival show at Latitude due to illness. Plus, when it comes to summery al fresco dance vibes, they are the band to beat.
3) How has the sound changed?
Long time no speak. How is everybody doing? pic.twitter.com/QHaIdW60gQ

— Two Door Cinema Club (@TDCinemaClub) April 27, 2015
This is Two Door's major label debut, having signed with Parlophone prior to their hiatus. So, will record number 3 be more of the same or will the extra opportunities afforded by a major allow for more experimentation/more polish? The leap in ambition between Biffy Clyro's early work and their major debut Puzzle should set the blueprint here.
4) Who are they working with?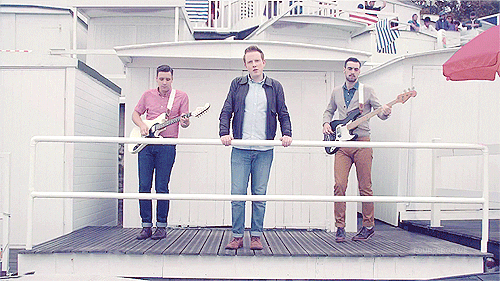 tumblr
Previous album Beacon was produced by Jacknife Lee, responsible for adding studio-based shine to efforts by stadium straddling acts like U2 and The Killers. No word yet on who is on board for the follow up but we are excited to see if any guest appearances from their friends in the dance-world could be on the cards. We want the bops and the bangers.
5) Will there be a video as well-choreographed as this one?
What a routine!
Looking forward to having you back boys!
tumblr