Warped Tour 2018: Lineup, Rumours, Tickets, Dates And Everything You Need To Know
13 March 2018, 10:26
Who will be performing on the pop punk tour's final ever cross-country run? And will any legends be returning?
Warped Tour, the legendary pop punk escapade across America, is set to wrap up later this year after one final cross-country jaunt over the summer.
So, what do we know about organiser Kevin Lyman's last ever Warped Tour?
Here's all the info we have gathered so far:
When is Warped Tour 2018?
The tour will kick off on June 21st in Pomona, California and wrap up on August 5th in West Palm Beach, Florida.
Check out all 27 dates on the official website here.
When are tickets on sale for Warped Tour 2018?
You can grab your ticket from February 26th at 10am.
How much is a ticket to Warped Tour 2018?
'Best Day Ever' Bundles, which include laminates and CDs as well as a General Admission ticket, start at $100 and are available for preorder here. Regular tickets will be at a lower price TBC.
Who is performing on the lineup of Warped Tour 2018?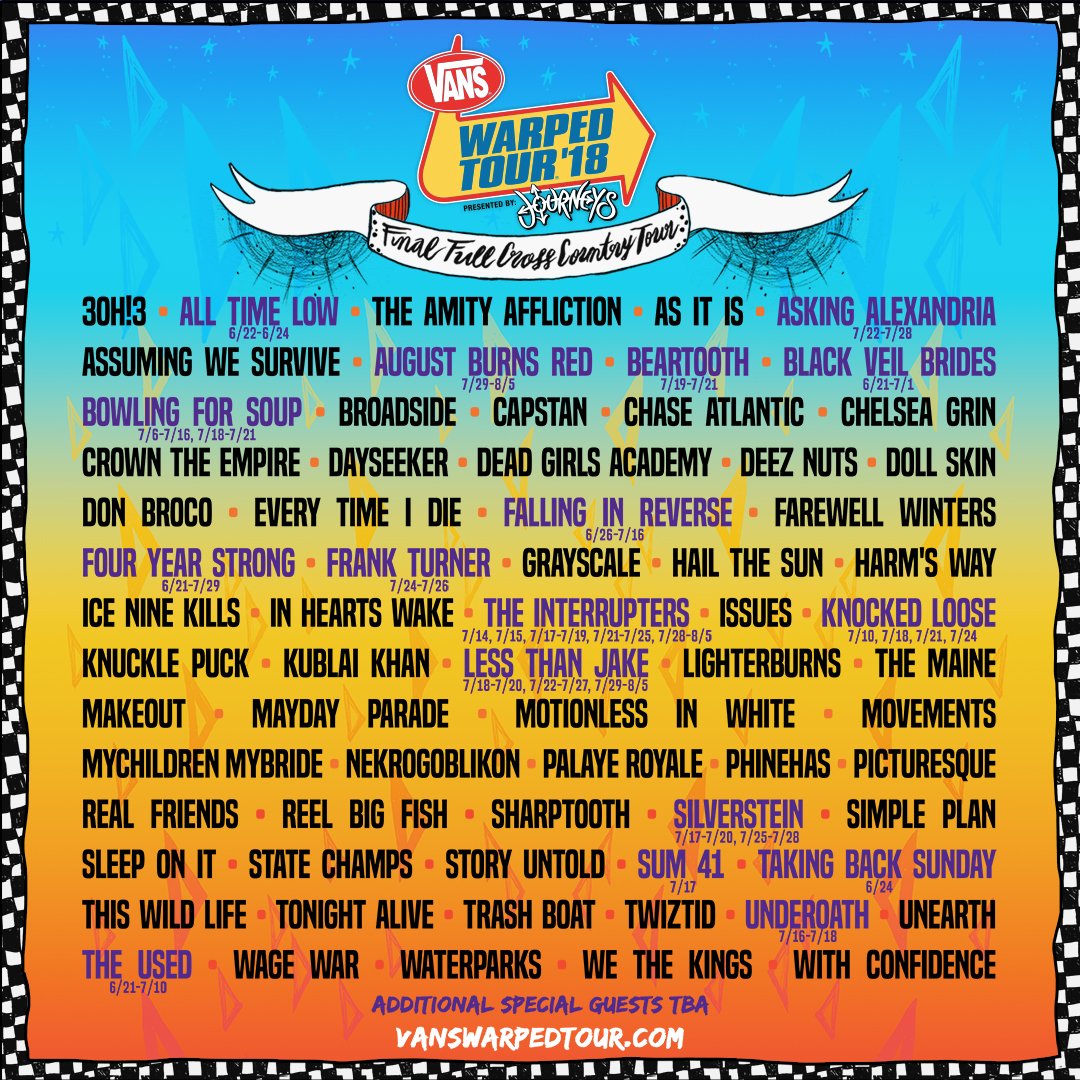 The epic full festival lineup was announced on March 1st 2018 with many returning faves and current scene superstars among the bunch including All Time Low, Sum 41, Taking Back Sunday and Waterparks.
The full final lineup for Warped Tour 2018 is...
3OH!3
All Time Low
The Amity Affliction
As It Is
Asking Alexandria
Assuming We Survive
August Burns Red
Beartooth
Black Veil Brides
Bowling For Soup
Broadside
Capstan
Chase Atlantic
Chelsea Grin
Crown The Empire
Dayseeker
Dead Girls Academy
Deez Nuts
Doll Skin
Don Broco
Every Time I Die
Falling In Reverse
Farewell Winters
Four Year Strong
Frank Turner
Grayscale
Hail The Sun
Harm's Way
Ice Nine Kills
In Hearts Wake
The Interrupters
Issues
Knocked Loose
Knuckle Puck
Kublai Khan
Less Than Jake
Lighterburns
The Maine
Makeout
Mayday Parade
Motionless In White
Movements
Mychildren Mybride
Nekrogoblikon
Palaye Royale
Phineas
Picturesque
Real Friends
Reel Big Fish
Sharptooth
Silverstein
Simple Plan
Sleep On It
State Champs
Story Untold
Sum 41
Taking Back Sunday
This Wild Life
Tonight Alive
Trash Boat
Twiztid
Underoath
Unearth
The Used
Wage War
Waterparks
We The Kings
With Confidence
(Exact lineups will vary between dates. Check the offical website for details).
Are any special guests playing Warped Tour 2018?
So far, Hatebreed and Pennywise have just been added as special guests at a few locations. Keep an eye on the festival's Twitter feed for more additions in the coming weeks.
Who else is rumoured to play Warped Tour 2018?
As this is the final run, there are plenty of other rumours suggesting that legends of the tour may drop in for a couple of dates to celebrate. Fall Out Boy, Blink-182, Green Day, Good Charlotte, A Day To Remember and even Katy Perry have all been suggested as possible candidates for a quick cameo. Watch this space...
Are you excited for the last ever Warped Tour? Let us know over in the Facebook comments.
____ ____ ____ ____ ____
Listen to the #PopBuzzPodcast featuring Troye Sivan right here or subscribe for free on iTunes to get new episodes sent straight to your phone every Friday.