Why Is Warped Tour Still A Bit Sh*t When It Comes To Women?
11 July 2016, 14:53 | Updated: 8 May 2017, 17:09
Guess how many women are playing at Warped Tour this year. Go on. Guess.
It's been 21 years since Warped Tour first took its show on the road. With punk figurehead, Kevin Lyman at the helm, Warped Tour has established itself as the largest purveyor of pop punk music in the world--attracting thousands of teens and young adults each year.
Like most kids who grew up listening to pop punk, I had my own Warped Tour experience, aged 17, circa 2009. The fact was then, and still remains to this day, that Warped Tour has a lot to explain to its young female fan base.
fun fact less than 4% of the performers playing Vans Warped Tour this year are women. 86 bands. 369 members. 13 women. this is so upsetting.

— graveyard baby (@stonedtomato) June 6, 2016
If you've ever been to Warped Tour, you'll know that the audience tends to be far from a boys club. Women have always been a huge part of the punk scene, even as far back as the 70s.
Getty//Christopher Moorhouse
From the beginning, women have loved the genre and its many off shoots as much as, and sometimes even more than, their male counterparts.
Getty//Theo Wargo
This year, 15 women have been billed alongside the 371 men slated to perform on the tour. Of course, they won't all play the same day or the same city so there are many fans who might only get the opportunity to see one or two of those women perform.
Some of these women are in well known alt acts like PVRIS and The Summer Set while others belong to far less recognizable bands. The fact still remains: If you have 386 people set to perform at your event, and only 15 of those people are women, you have what's called a "problem".
But here's the rub. Founder, Kevin Lyman doesn't even think there's a problem in the first place. In a 2014 interview with Wandering Sound, Kevin flat out rejected the notion the unbalanced male to female performer ratio posed any type of issue.
There's really not a lack of women. If you've got 20 bands that have women in them out of 120 bands, that's one out of six bands.

Kevin Lyman in Wandering Sound, 2014
kevin lyman is canonized 4 running a fest that continually fails women and mad people keep throwing money at it it out of convenience

— rata tootie (@ihatejesselacey) July 9, 2016
Some may be quick to point out that Warped Tour has always supported Paramore. Paramore are, of course, trailblazers in their genre, surviving line up change after line up change and still coming out on top with an extremely loyal fan base and bad ass front woman, Hayley Williams. But Paramore is one band. In a sea of male fronted bands with all male line ups. Paramore aren't the rule. They're the exception.
When I was growing up, I looked up to bands like The Donnas, Bikini Kill, and The Distillers--to name a few. They were loud, proudly rock and roll, and at the forefront of alt music. Now, I wonder, as festivals like Warped Tour continue to fail women when it comes to representation, who will girls 10 years younger than me truly look up to?
We have a duty to ensure that punk and alternative music doesn't remain a boy's club. We're not in the scene to meet boys. We're real fans who would love to see our base more evenly represented.
Bands like Hey Violet (who have toured with 5SOS), Ex Hex (who are criminally good live), and Girlpool (who are also astonishing live), could help bill Warped Tour as a tour that takes emerging, female, alt talent seriously.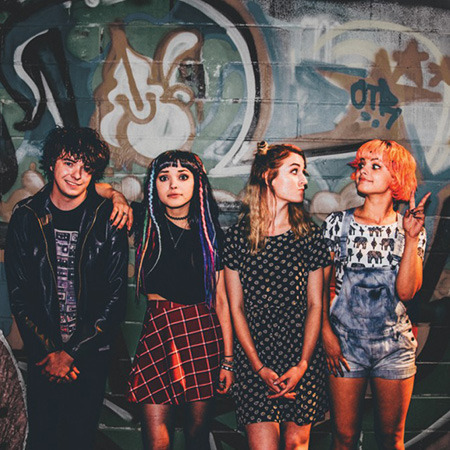 Then, to make matters worse, there is the issue of the pro life tent at this year's festival.
Fans of both sexes are outraged at the boldness of a pro life tent at Warped Tour this year. Considering that Warped Tour's highly liberal, relatively woke, and quite young audience tend to have progressive attitudes about sex and politics, this particular initiative has majorly missed the mark.
there is no reason for a pro-life tent at warped tour this summer, I am baffled https://t.co/480K9tOxoP

— Sorority Noise (@sororitynoise) July 9, 2016
A band on warped tour funded by the u.s. Army and now a pro life tent. Maybe next year we can play the Donald Trump stage ?

— MF (@matthewftzptrck) July 9, 2016
Owe it to Warped Tour for constantly making teens feel unsafe and uneasy. Last year it was FPS, now it's Pro-life tents preaching to them.

— minnie (@MlNNIEMOU) July 9, 2016
Warped Tour are happy to take money from young girls, sell them merch, and help them meet 24 year old men with hair cuts that belong on 16 year olds. But when it comes to representing them and their interests, Lyman and other organizers are doing nothing for women.
Pro life doesn't just mean anti-abortion. Pro-life is anti choice. You're telling young women that there is no space for them on stage and no space for them to make decisions about their bodies. But they're happy to take your money and push the same homogeneous sounding acts to fans year after year. It's not even just a blatant disregard of women, it's a blatant disregard of talent.
So, here we are. There seems to be no easy solution for Warped concert-goers who are dying to see their interests more broadly represented. The best thing I can think to do is to write Kevin. Tweet at him. Send a raven. Do anything you can to let him know that he's not trying hard enough. Because the truth still remains, Warped Tour is still one of the most accessible avenues for young punk and alt fans. So hold Lyman to account.
Then, if that doesn't work, stop buying tickets to Warped.