Why You Should Get To Know Weezer In Time For The Panic! Tour
6 April 2016, 11:19 | Updated: 8 May 2017, 17:09
The boys stopped by London for a rare show and we caught all the action.
Weezer stopped by London's Brixton Academy this week for a rare UK gig and we were down the front ready to discover what we can expect from their full tour with Panic! At The Disco this summer.
Here's a few things we "learned".
1) The new songs are pretty great.
Latest release The White Album is full of singalong anthems, from the set opening "California Kids" to the HUGE single "Thank God For Girls", both of which were greeted with just as much noise as the old favourites. Speaking of which...
2) They played all the hits and they sounded glorious.
"Hash Pipe", "Island In The Sun", "Pork and Beans", "Buddy Holly", "My Name Is Jonas", "Say It Ain't So", "Beverly Hills" - we could go on and on.
3) They have a seriously dedicated fandom.
From the packs of people making the "W" hand symbol in the air, to the spontaneous moshpit during "El Scorcho" or the emotional rollercoaster of the guy and girl in front of us who went from fighting to dancing to making out in the space of one song, this crowd came to worship at the throne of Rivers Cuomo and co and they came hard!
4) They are the perfect tour buddies for Panic!
Brendon is all about putting on a big show - backflips, shirt removals, vocal runs, statement jackets etc. But Rivers is a much shyer presence on stage, occasionally acknowledging the crowd with a throwaway comment, coming alive during guitar solos rather than playing the typical frontman role. What he and Brendon share is an ability to write amazing pop melodies (Rivers co-wrote Panic!'s "Victorious") and the duelling performance styles should compliment each other to make one hell of a show this summer.
5) They are coming back soon!
The boys made a big festival announcement from the stage during the encore.
.@Weezer just announced from the stage that they are playing @OfficialRandL and @GlastoFest - cannot wait! #weezer pic.twitter.com/qGKUfNl31b

— PopBuzz (@popbuzz) April 5, 2016
Weirdly, they already have US gigs booked throughout Glastonbury weekend but, hey, hopefully we will see them again on UK shores very soon.
The White Album is out now and you should go get it immediately!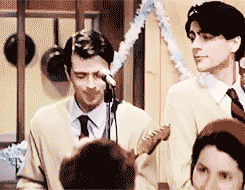 COCKTAIL-PARTY-IN-AN-ABATTOIR.TUMBLR.COM