Which Of Your Faves Has The Biggest Voice? PopBuzz Investigates
18 January 2016, 13:03 | Updated: 8 May 2017, 17:09
Let's go in deep!
Let's face it kids - some popstars are made of tougher stuff than others. And by stuff, we mean vocal chords. Following the path set out by the kinds of divas you now only see on VH1, today's singers need to not only be engaging, entertaining performers but also be able to hit the really quite high top notes and lowest of the low notes in equal measure without looking like they are about to pass a kidney stone. Sure, the likes of Selena can get by on a sultry whisper and a couple of euphemisms to create pop magic but it's the elastic larynxes of the 2016 belters that intrigue us the most.
tumblr
So, in the week that internationally successful vocalist Harry Styles began taking singing lessons, we ask one simple question - which of your male faves has the biggest voice?
For reference, here is a keyboard with notes and numbers on it so you can fully appreciate how big some of these screeches are.
harmoniumnet
Also, for fairness, and because they are a pain in the a** to work out, we ain't counting dramatic live bonus runs - we're talking what's on the records here people!
Now let's "investigate".
Brendon Urie
Highest Note: Obviously, Brendon is a tenor and not afraid of showing it (the man added in a cover of the vocally punishing "Bohemian Rhapsody" into his regular set just for the LOL). As this handy YouTube video shows, his range is about four piano octaves and his falsetto notes are off the scale, especially in the live arena where he constantly throws in extra runs and yelps, as in this version of "The End Of All Things". But what about on record? Well, the highest note so far appears to be on "Death Of A Bachelor" - skip to the 3m19s mark to hear a top G5 on the word "ask". Any higher and the next Panic! album will only be audible to dogs.
Lowest Note: The intro section to "This Is Gospel" has him hit a low A2 and, as this video details, "Girls/Girls/Boys" and "Lying Is The Most Fun..." all hover around the lower register for the majority of the song; no small feat given that he's clearly more comfortable on top (grow up!).
Does He Look In Pain?: Nope.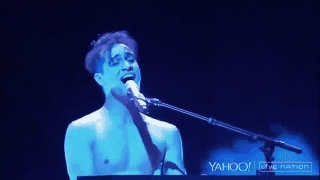 YouTube
Wait, is this why he's always topless? Does it make it easier somehow?? Less restriction around the collar or something???
Final Score: Effie ain't going!
Patrick Stump
Highest Note: We all know Patrick has a soul voice and he's been pushing his limits further and further over recent albums, hitting a C6 falsetto on American Beauty/American Psycho as well as a full-voiced D5 on the final note of the title track. Again, YouTube has reviewed the full extent of his powers.
Lowest Note: According to The Range Place, Folie A Deux track "Headfirst Slide Into Cooperstown On A Bad Bet" hits an F2 (!) in the first verse on the word "again". Check out the 20s mark to hear it. It's like he's channeling the power of Barry White!
Does He Look In Pain?: A little...

patrickstumpgifs.tumblr.com
But he seems ok with it.
Final Score: Celine on a boat.
Gerard Way
Highest Note: Another pop punk flavoured tenor, Gerard also takes after Freddie Mercury in his approach, hitting big-time notes throughout The Black Parade era as well as E Flat 5 and D5 on "Destroya" from MCR's (tear) final album; listen out for the backing vocals in the chorus for bonus madness.
Lowest Note: Gerard would also vary his melodies live but, on record, check out his lowest note when he hits the B2 in the opening section of "Teenagers". It'll scare the living sh*t out of you.
Does He Look In Pain?: No more than ususal.
tumblr
Expressing pain is kinda what pays his bills.
Final Score: Cher without autotune.
Oli Sykes
Highest Note: This is a tricky one because a lot of his insane vocals are technically more screams than sung notes. Well, you can't do a track called "Happy Song" without a bit of screaming can you? That track features an F5 and some live versions go even higher but, obviously, it's intentionally harsh sounding.
Lowest Note: Check out the acoustic version of "Drown" for a pure scream-free vocal going down to an A2.
Does He Look In Pain?: Of course.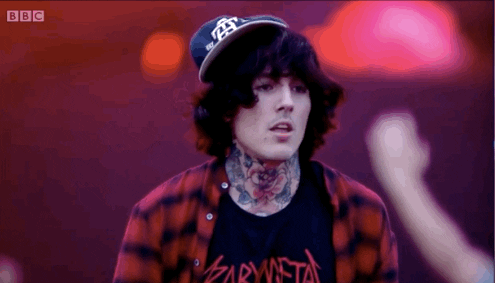 tumblr
That's the whole point.
Final Score: "Let the storm rage ooooonnnnnn".
Olly Alexander
Highest Note: Synth pop maestro Olly knows how to deliver on the glory notes, stadium anthem "Gold" going up to an E Flat 5, further confirming that it is, in fact, a huge tune of the highest order.
Lowest Note: Big single "Desire" has a B Flat 2 in the final chorus (technically it's backing vocals but, hey, I make the rules and it sounds awesome).
Does He Look In Pain?: Hell no.
This is what happens when you ask @alexander_olly to do the hotline bling dance. @yearsandyears #capitalJBB pic.twitter.com/R3ZVu0lIw2

— PopBuzz (@popbuzz) December 5, 2015
Chill AF.
Final Score: Tina Turner and Beyonce duet level belt.
Adam Lambert
Highest Note: God knows! Theses vocals are huuuuggee. Just go watch him give his best Freddie and judge for yourself.
Lowest Note: The Range Place assists once again - apparently there is an E2 in his version of "You're The One That I Want".
Does He Look In Pain?: Nah.

tumblr
He used to be a musical theatre kid remember? They train hard.
Final Score: American Idol.
Troye Sivan
SingersAvenue on tumblr got you covered on this one:
tumblr
Does He Look In Pain?: Can a cinnamon roll even feel pain?
Final Score: Wild.
THE RESULT!!!
So, after our thorough investigation into some of the biggest male vocal pop talents in the game, taking into account ranges and ease of delivery, we can confirm that the fave with the biggest vocals in pop is.....
This badazz bitch!
Keep doing you Aretha!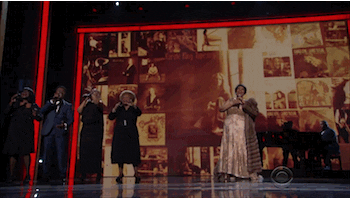 tumblr