Don't Care About The Beatles? You Should Read This
6 January 2016, 12:16 | Updated: 8 May 2017, 17:09
They're more relevant than you think.
In between fighting about our favourite Rihanna songs and counting down to the new Panic! album, we often have debates in the PopBuzz office. Is Beyonce annoying? Yes. Is poutine the greatest food ever invented? Yes. Are Justin Bieber's cornrows culturally-insensitive or just plain ugly? Both.
One thing that got us chatting was the news that The Beatles are finally joining streaming services like Spotify and Apple Music. As you might have read yesterday on PopBuzz, nothing gets the 'authenticity police' going like news about The Beatles. These are the people that actually believe anything released past 1969 is 'inauthentic', 'shallow' or 'not real music'. These people are unequivocal idiots.
They've also shot themselves in the foot. By insistently yelling about how "The Beatles are the best band to have ever existed", they actually make the band seem less appealing. It's easy to switch off or feel apathy towards something or when people are being hysterical about it (hello, Justin Bieber's new album!)
That said, I confess, I am a Beatles fan. And I often find myself having to counter arguments made by people of my age like 'The Beatles are completely overrated' or that they simple don't care for them. That's fine, but...are you sure you don't care?
The thing is, The Beatles had some pretty darn good songs. And you might be surprised to know that some of your faves have been inspired by them too. One such band is Panic! At The Disco. There much-loved second album Pretty. Odd. is heavily indebted to Sgt Pepper Lonely Hearts Band, a seminal album by The Beatles.
The bands former drummer Spencer Smith said of it's influence on their change in direction for the second album, "In the past couple of years we were listening to stuff that was a little bit different than what we were on the first record, and the Beatles would be an example of that."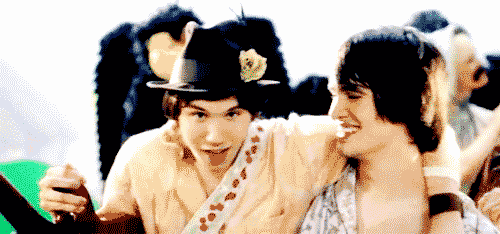 giphy.com
Latter day Green Day has not been untouched by The Beatles' long hand of influence. "Last Night On Earth" from iUNO! is basically a Beatles ballad in all but name, as is "The Forgotten", with it's lawsuit-worthy similarities to "Let It Be". Not enough? Gerard Way has spoken about how The Beatles influenced the self-referential nature of MCR songs and Abbey Road was on heavy rotation for Lady Gaga while recording her breakthrough The Fame.
But you don't need a list of artists to vouch for them. What you do need is a list of Beatles bangers to help demystify their legacy and reclaim their music from overzealous fans. We've chosen a few album cuts to help you dig a bit deeper. At the end of the day, music is music and The Beatles are just a good band. Give them some time and you will be rewarded handsomely.

1) The Beatles - Got To Get You Into My Life (Revolver)

2) The Beatles - "Helter Skelter" (The Beatles)

3) The Beatles - "Blackbird" (The Beatles)

4) The Beatles - "I've Just Seen A Face" (Help!)

5) The Beatles - "Norwegian Wood" (Rubber Soul)