LISTEN: This Pop Punk Band Use Harry Potter To Combat Depression
10 June 2016, 15:41 | Updated: 8 May 2017, 17:09
With Confidence's new track may not be about what its title suggests...
Australian pop punk outfit With Confidence have dropped a new track from their hotly anticipated debut that, while on the surface may appear to be about a certain boy wizard, has an unexpected twist in its lyrics.
Tumblr
Entitled "Voldemort", the track is the opener of upcoming album "Better Weather" but the title is in fact not a reference to the arch villain of JK Rowling's novels but a metaphor for depression, opening up conversations about mental health among young people.
Bassist Jayden Seeley explains the thought behind the title:
Fear of a name only increases fear of the thing itself.' Voldemort is my personification of mental illness and this song is a big, happy and carefree fuck you to Voldemort.

Jayden Seeley
Voldemort was, of course, known as "he who must not be named" in the Harry Potter saga, so using his name as an analogy for mental health struggles makes sense as so many sufferers are sadly still afraid to speak openly about it.
By placing this subject in relatable terms, the With Confidence boys effectively and simply show their audience that there is nothing to be afraid of and any struggles can be overcome. It is a wonderful, powerful statement in keeping with the fantasy novel genre's discussion of real world issues in more abstract and accessible terms.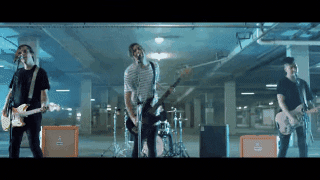 Hopeless Records
Plus, it helps that the tune is also really great. Having seen and chatted to these boys at Slam Dunk Festival earlier this month, we can affirm that they are set for BIG things this year.
Listen to "Voldemort" below: