15 Amazing Women In Music Who Kicked Ass In 2016
7 December 2016, 15:36 | Updated: 8 May 2017, 17:09
Get in formation, ladies.
No matter what you think of 2016, there's no getting around the fact that female artists and musicians smashed it this year. Let's revisit some of the names in music that reminded us how empowering it is to be a woman with something to say.

Melanie Martinez
Few artists commanded the level of fan loyalty that Melanie Martinez did in 2016. She spent much of 2016 touring her Cry Baby album and creating visuals for the same project. At this point, there is no denying Mel's cult status in the alt-pop music scene.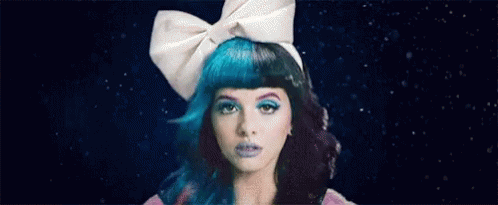 via tenor.co
Hayley Kiyoko
Raise your hand if Hayley Kiyoko singing about liking other girls is a narrative that you'd very much like to be included in. Some of our favourite pop tunes this year have come from this talented lady who completely blew us away with Citrine.


via tumblr

Dua Lipa
Dua freakin' Lipa gave us some scorching singles this year (you could almost say they were Hotter Than Hell) in preparation for her February 2017 debut. Dua made 2016 her breakout year and even stopped by to chat with Popbuzz!
Alessia Cara
Slow and steady wins the race. By all accounts, Alessia has had quite a conventional rise to popularity. The 20-year-old Canadian hit her stride in early 2015 with famous fans like Taylor Swift and Drake vouching for her. Then came Four Pink Walls, her phenomenal EP and now some major TV appearances and duets YES, ALESSIA.


Zara Larsson
I'd regard 2016 as the year people really embraced Zara Larsson en mass. After gaining popularity with 2014's MNEK collab, "Never Forget You", Zara has quietly become a recognizable name in pop with stellar releases like "Lush Life" and "Ain't My Fault." Great thing about Zara is that she's always on hand to school you if you need it.

Kesha
2016 has been beyond rough for Kesha. If you can remember all the way back to January and February, #FreeKesha was the rallying cry of celebrities and fans everywhere who were appalled at her struggle with former mentor Dr. Luke. As of October, Kesha is still deep into it with Dr. Luke but continues to display bravery and strength of conviction.


Carly Rae Jepsen
Carly Rae Jepsen loves pop music. That much is true. 2015's E·MO·TION might actually be one of the best records of the decade and this year's B-Sides are an easy reminder that she is making, easily, some of the best pop music right now.
Angel Olsen
Angel Olsen quietly put out one of the best albums of the year with very little fanfare. Think Lana Del Rel Rey with a fair bit of rock and roll. Your girl, Angel is slaying these girls in total secret.
Hailee Steinfeld
Hailee Steinfeld serving up 2015's masturbation banger had us weak. Hailee Steinfeld killing it on screen and bringing us ever closer to that full length debut album? Yes, ma'am. We'll take it.
Getty
Halsey
Of course Halsey has been on our radar for a while now. This year she snatched up a soundtrack credit for Huntsmen: Winter's War as well as the most played song in America via The Chainsmokers. Girl, you're killing it. Simple as.

Solange & Beyoncé Knowles
Miss Tina's progeny snatched us all the way bald this year. Both sisters, of course, appeared on Popbuzz's albums of 2016 list. Bey had us with Lemonade in the first part of the year and A Seat At The Table had as covered for the latter part. Our favourite Knowles' simply crushed it.
via Getty

Tinashe
Tinashe's issues with her label are very well documented, even by yours truly. Her Joyride album has been delayed to death, she's been forced to work with Chris Brown, and she's had to fight an uphill battle to get her label to be 100% behind her. But Tinashe has worked, put out consistently good music, and danced her ass off whenever the occasion called for it. Oh! And scored a great duet with Godney herself. Yes, mama. You slayed us all.
CL
Formerly of 2NE1 fame, K-Pop turned rap star CL has worked her ass off this year to further carve out a niche for herself in the Western music scene. Her music is all about being a boss, doing what you feel like, and being confident in yourself. If that doesn't check all your boxes, I don't know what will.
Kehlani
The start of 2016 was rough for Kehlani. After a brief stint in the hospital following some very mysterious circumstances, Kehlani returned to the scene and hit the ground running. Kehlani has had a strong roll out for SweetSexySavage (out in early 2017) and even scored a hit on the acclaimed Gangster Squad soundtrack. The end of Kehlani's 2016 looks a lot better than its start and we couldn't be prouder or more excited for her.
___ ___ ___ ___ ___
Catch Pierce The Veil on the #PopBuzzPodcast right now. Subscribe for free on iTunes to get new episodes sent straight to your phone every Wednesday.