Saviour Of Music Adele Drops Future #1 Banger, World Freaks Out
23 October 2015, 11:11 | Updated: 8 May 2017, 17:09
New Adele song = internet meltdown.
It's time for Adele World Domination Part lll. Just submit yourself to it, you will never win.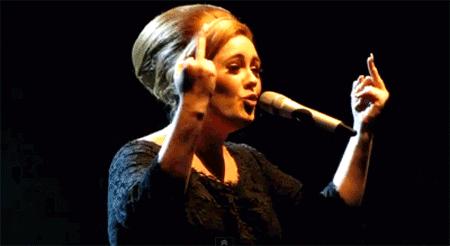 Yep, Adele has finally unveiled her new song "Hello" and it's a proper belter. The video has got this late 90s/early 00s feel to it which is giving us some serious Celine Dion vibes. We are also L.I.V.I.N.G for Adele's flip phone in the video. We would happily support an Adele-fronted campaign to be bring the flip phone back to the market.
Her new album, 25, will be released on the November 20. Let's hope she uses at least one flip phone in each video for every single that follows.
Now we knew people would be losing their shit to the new song but we don't think we were ready for just how BATSH*T CRAZY people have gone. Let's take a look at the best.

Ariana Grande right now (her album drops the same day).

Wait until this person hears the whole song.
Me after hearing a snippet of Adele's new single #Hello pic.twitter.com/DfvSOGCIH4

— Juan (@SlayMy_Mind) October 23, 2015

The conspiracy theories have already started rolling in.

It will be a busy weekend at morgues across the globe #AdelePandemic


Governments have been stockpiling tissues for months in preparation for the floods of tears that are expected to destroy towns and cities. Rural areas are predicted to be hit the worst.

People are obsessed with Adele's phone. Will this be a new fashion trend in 2016? WE BLOODY HOPE SO.
I saw Adele Adkins holding a flip phone and tea, so I bought a flip phone and tea pic.twitter.com/Wd95QWE3ZA

— Sibongile Mafu (@sboshmafu) October 23, 2015

R.I.P every other popstar in 2015 & 2016. Possibly 2017, too.
listening to Adele ruining all our favs careers pic.twitter.com/6aQ4RySlC7

— Chanel #3 (@FloridaKarlos) October 23, 2015

Stop it, Adele. Just stop.
me: I am emotionally stable, moved on, and ready for the next chapter of this wonderful life! Adele: pic.twitter.com/AtyTLDF7YM

— Ben J. Pierce (@BenJPierce) October 23, 2015

Everyone needs to chill and take deep breaths. Adele would not want you to die, even if it would be quite befitting of the song.
Me listening to the new #Adele #hello pic.twitter.com/vdPBKxvd2t

— Robert Bonsfield (@robbybon) October 23, 2015

I'M BREAKING, I'M BREAKING.
Listening to #Adele's #Hello pic.twitter.com/JRmgpgowpP

— Viktor T. Kerney (@wondermann5) October 23, 2015

Are you ready for a good cry? Well here you go. Let's us know how you get on.