Andy Black FINALLY Reveals Full Solo Album Details
17 March 2016, 11:06 | Updated: 8 May 2017, 17:09
Get all the info here.
Andy Black has finally unveiled full details of his solo debut album which features appearances by pretty much every pop punk act you love right now.
The Shadow Side will drop May 6th, just in time for Andy's previously announced UK tour with Creeper.
The single "We Don't Have To Dance" is released this Friday and the full tracklisting for the album was unveiled via Instagram. The album will feature a HUGE amount of guest artists including Patrick Stump, Ashton Irwin, Gerard Way, Rian Dawson and Matt Skiba who is featured on the track "Stay Alive". The whole shebang is produced by the legendary John Feldmann, the man behind the likes of 5SOS and Panic! At The Disco.
Check out the full tracklisting for The Shadow Side below:
1. Homecoming King
2. We Don't Have To Dance
3. Ribcage
4. Stay Alive (feat. Matt Skiba)
5. Love Was Made To Break
6. Beautiful Pain
7. Put The Gun Down
8. Drown Me Out
9. Paint It Black
10. Break Your Halo
11. Louder Than Your Love
12. Broken Pieces
13. The Void
So what do you think guys? And which ones will feature which faves? Let us know!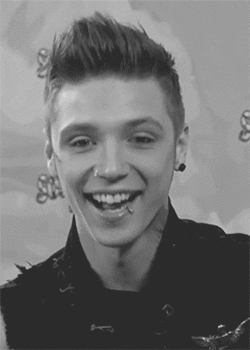 GERARD-WAYS-NANNY.TUMBLR.COM