Which Pop Punk Royalty Is On Andy Black's Solo Debut?
18 February 2016, 13:51 | Updated: 8 May 2017, 17:09
So many guests!
Black Veil Brides frontman Andy Biersack has been in and out of the studio recently, putting together not only the 5th BVB album but also his solo debut as Andy Black, for which he's lined up quite a few special guests.
Not only is the legendary John "Feldy" Feldmann behind the production desk but various other favourites from the pop punk world have been seen stopping by the studio.
Let's recap over who has been spotted working with Andy thus far:
1) Patrick Stump
Will there be a soul-voiced duet somewhere on the record?
2) Ashton Irwin
Feldy's latest protege clearly learning the ropes from a great. Will 5SOS sound much heavier now?
3) Gerard Way
He's back! He's actually back! Will this mean that the black parade will be reborn with Andy in tow? Probably not. But still, he's back!
4) Rian Dawson
After laying down some drums for Andy, do you think Rian could convince the other ATL guys to come join in?
5) Matt Skiba
The latest spotting - Alkaline Trio main man Matt, also currently working with Feldy on the new Blink record.

So there you go.
Which of these guests are you most excited about guys? And what do we think Andy's album will end up sounding like?
Send us your theories below!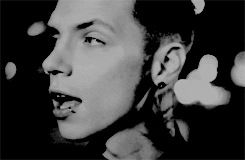 ANDYBLCCK.TUMBLR.COM