The 1975 Fans Are Angry Because ANOTHER Band Just "Copied" Their Artwork
2 June 2017, 14:21 | Updated: 2 June 2017, 16:42
The Arcade Fire's new single art looks familiar and can we PLEASE stop doing this now?! We're so tired...
Well, here we are again. Another album release, another accusation of thievery by fans of The 1975.
Yes, after the iconic neon signage of the Manchester band's second album era was seemingly co-opted by everyone from Fall Out Boy to Bon Jovi to the UK government, social media has once again lit up as the Arcade Fire unveiled their latest single, entitled 'Everything Now', complete with a dramatic press shot of a neon sign set against an epic landscape.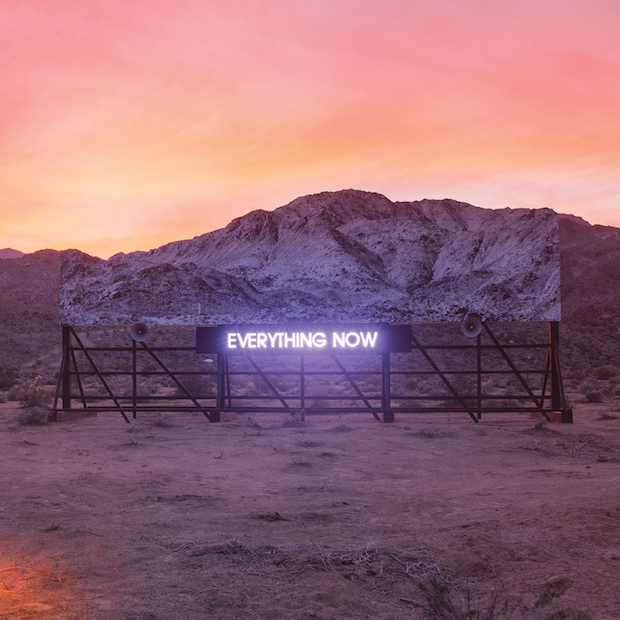 Yep, looks pretty familiar.
Obviously, The 1975 fans were straight in and ready to point out the similarities.
Arcade Fire: hey, can I copy your homework?

The 1975: sure, just don't make it obvious pic.twitter.com/CTN7vM5VaG

— MOVE THAT BUS (@noveltysongs) June 2, 2017
Arcade Fire out here stealing @the1975 cover art ideas... Shame

— () (@WVXIIL) June 2, 2017
Arcade fire's album art looks like the 1975 :/

— sidney fleminger (@sidneyphlegm) June 1, 2017
And, as expected, there were also those quick to shout about The 1975 having "not invented neon".
Arcade fire would hardly be inspired by the 1975 lol they didn't invent neon signs

— Sophie (@sophiepopplewel) June 1, 2017
yeah yeah Arcade Fire's new album artwork looks like The 1975's blah blah who cares I'd take it as a compliment

— jacky ≈ (@_helpmepolarize) June 1, 2017
stans saying that arcade fire ripped off the 1975...y'all think everyone rips off them when they're not even original themselves

— sally cinnamon ≈ (@refIektors) June 1, 2017
Anyone else getting a major sense of déja vu?
Seriously though, regardless of whether or not you think The 1975 (and, more importantly, their photographer and designer Samuel Burgess Johnson) are getting a raw deal, can we PLEASE all just call time on the whole 'neon sign against a landscape' style of music promo. I think we can all agree by now that it is well and truly done right?
(Although, for the record, we're team Matty).
Sorry about it.
____ ____ ____ ____ ____
Listen to the #PopBuzzPodcast with All Time Low right here or subscribe for free on iTunes to get new episodes sent straight to your phone every Friday.