Bella Thorne Is Releasing New Music This Year And We're Not Ready
3 January 2017, 11:50 | Updated: 8 May 2017, 17:09
It's going to be a very busy year for Bella.
Well this is news that we definitely were NOT expecting at the start of 2017.
Fresh from dyeing her hair blue and in the same process causing us to have a mild stroke, as well as launching her own clothing line, Bella Thorne has now confirmed she is also working on new music which she hopes to release in 2017.

It all started when a fan tweeted this image which seems to suggest that Bella was releasing music in 2017.
Bella, is this true? @bellathorne pic.twitter.com/6cGtzpGC6x

— italianoexpresso (@iemagazinee) January 2, 2017
Well was it true? Bella quote-tweeted in response confirming the news!
Yeeeee it's trueeeee https://t.co/7Ifuk7c4gt

— bella thorne (@bellathorne) January 2, 2017
Now some of you might be asking, what do you mean 'new' music? Well, let the good sis tell you all about it.
Bella Thorne's first music releases date back to her Disney days in 2011, notably starring alongside Zendaya in Shake It Up. There were a handful of singles from this era including one with Zendaya herself called 'Contagious Love', released in 2013. Listen below if you're feeling nostalgic.
Later in 2013, it was announced that Bella had signed to Hollywood Records and began working on her debut material. The album failed to materialise but a single "Call It Whatever" and EP, Jersey, were released in 2014.
We have so many questions about this. Bella's status has risen considerably over the last two/three years so we're sure they'll be plenty of music producers who will want to work with her to create some world-conquering bangers. We wonder what type of sound she'll go for? Some alt pop like Halsey or maybe something rockier like Sky Ferreira? Or she might just surprise us all and do a country album. I mean, who ever knows what Bella will do next? It looks like 2017 is going to be a big one for Bella. [H/T Teen Vogue]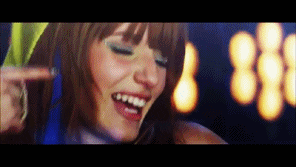 giphy
___ ___ ___ ___ ___
From Brendon Urie to The Vamps, here are the best bits from the #PopBuzzPodcast in 2016. Listen right here or subscribe for free on iTunes to get new episodes sent straight to your phone every Wednesday.