WATCH: Elders React To Bring Me The Horizon, Fail To Start Mosh Pit
17 June 2016, 11:52 | Updated: 8 May 2017, 17:09
The latest react video has landed and it turns out elders think the "Follow You" video is kinda gross too.
Everyone's favourite Yorkshire-based noise merchants Bring Me That There Chuffing T'Horizon are not the type of band you normally associate with a fanbase heavy on pensioners.
Wifflegif
Still, age ain't nothing but a number right kids? Why shouldn't an elderly audience appreciate the joys of jumping in a circle pit to the sounds of "Happy Song"?
With that in mind, the latest Fine Brothers video takes some of BMTH's biggest hits and plays them for an elder audience.
Things certainly start off well...
Fine Bros, YouTube
(excellent bow tie btw).
But then they play the crazy, apocalyptic video for "Follow You". And things take a turn...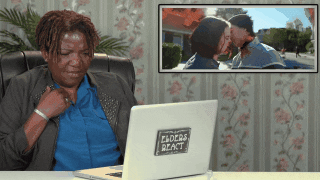 Fine Bros, YouTube
Tbf, it is grim.
Watch the full video below and then show it to your grandparents: