WTF? BMTH Are Headed To Glastonbury 2016 And We Have Ideas
30 March 2016, 11:13 | Updated: 8 May 2017, 17:09
That's the (festival) spirit!
Legendary UK farm-based music festival Glastonbury unveiled the bulk of its 2016 lineup this week and it includes many of our PopBuzz faves.
We're pleased to reveal our first Glastonbury Festival 2016 line-up poster (by Stanley Donwood)… pic.twitter.com/k6t3d7b1PH

— Glastonbury Festival (@GlastoFest) March 29, 2016
Yep, alongside the headliners Coldplay, Muse and Adele, the likes of The 1975, CHVRCHES, Two Door Cinema Club, Years and Years, Grimes and Foals will all be heading to Worthy Farm this June and we can't wai....hang on, who is that on the listed on the left???
Are Bring Me The Horizon really playing at Glastonbury?!?!?!
See you at @GlastoFest https://t.co/g8CSrfN6n6

— Bring Me The Horizon (@bmthofficial) March 29, 2016
Wow. Well this changes everything.
GLASTO!

— Oliver Sykes (@olobersyko) March 29, 2016
Oli and the boys aren't the usual choice for the famously mellow vibes of Glasto so, frankly, anything could happen now that the festival is embracing some heavier options for their stages. Here's some things we would like to see go down this June.
1) Oli crashes Coldplay's Sunday night headline set and knocks over a table.
TUMBLR.COM
If there is no table on stage, he will bring his own.
2) The sound of "Follow You" causes the farm to become as apocalyptic as that street in the video. YouTube
Horrifying.
3) The Grandma from their appearance on Saturday Night Takeaway makes a surprise appearance. YouTube/ITV
What a legend.
4) In a tribute to fellow festival performer Cyndi Lauper, the band do the first ever screamo cover of certified classic "Girls Just Wanna Have Fun".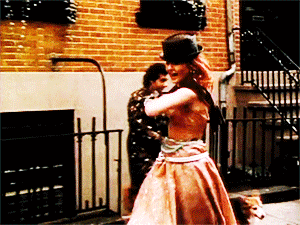 YOUR-LOVE-COLORS-EVERYTHING.TUMBLR.COM
Followed by "Time After Time".
5) The legendary sacred Stone Circle area is renamed The Stone Moshpit.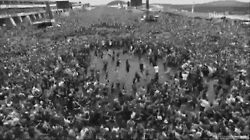 PICSLIST.COM
Circle pits at sunrise.
6) Adele finishes her Saturday night set with a teary, piano-led cover of "Happy Song".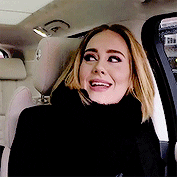 ADELAE.TUMBLR.COM
Everyone in the crowd sobs.
7) They recreate their upcoming Albert Hall gig by bringing out a full orchestra.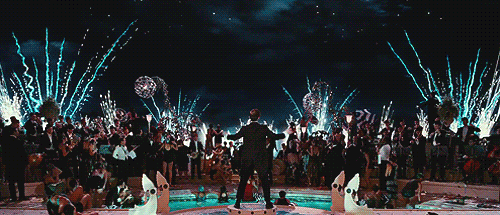 THEBASVNTEEN.TUMBLR.COM
And a choir.
8) Oli's dog meets Matty Healey's dog backstage and they become best friends.
TUMBLR.COM
OTP.
9) BMTH perform a secret midnight show on the top of this giant fire-breathing mechanical spider. YouTube
Yep, Glasto really has that.
10) They duet with Earth, Wind And Fire.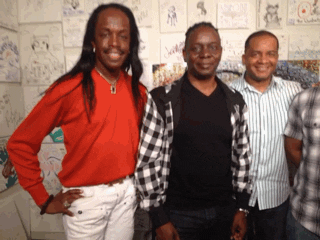 Yahoo
Disco metal? Yes please.
We just got even more hyped for the summer!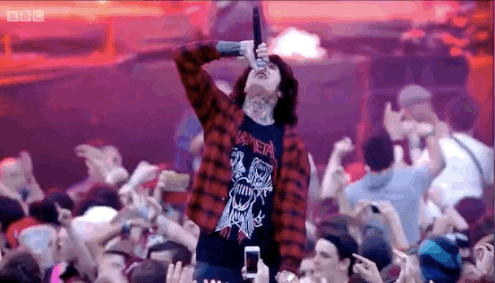 POURONEMORECHASERFORME.TUMBLR.COM