Bring Me The Horizon Just Announced A HUGE Tour
4 January 2016, 17:00 | Updated: 8 May 2017, 17:09
Let's sing a happy song!
The rise of everyone's favourite purveyors of noise Bring Me That There Chuffing T'Horizon Yer Bugger By Gum (they're from Yorkshire) continues as they have just announced their biggest tour to date, taking place this November.
NEW SHOW: This is a warning...@bmthofficial are back this Nov! Tix on sale 9am Friday! Who's getting some? #BMTHBham pic.twitter.com/QMwowKArzH

— Barclaycard Arena (@BcardArena) January 4, 2016
Ominous.
The news comes after the (other) news that recent rather good album "That's The Spirit" has just been certified Gold, meaning that it has sold a lot of copies and now Oli Sykes can afford to decorate his dogs in Gold leaf.
tumblr
Well done all.
Here's a tweet detailing all of the details in tweet form:
January 4, 2016
On sale Friday so set your alarms accordingly.
Roll on November.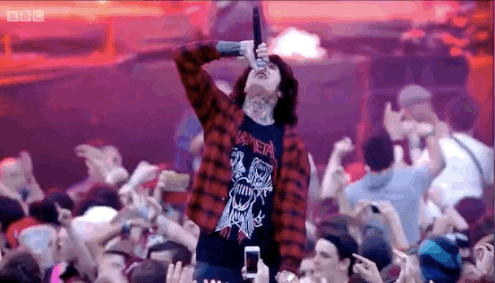 POURONEMORECHASERFORME.TUMBLR.COM