Here's Why The Brit Awards 2017 Will Be Way More Fun Than The Grammys
22 February 2017, 11:45 | Updated: 8 May 2017, 17:09
Get ready for the messiest, most outrageous music show of the year...
With The Grammys done and dusted for another year, it's time to look forward to the other major awards event on the musical calendar, The Brit Awards, which take place on UK shores and provide a welcome, fun contrast to the often plodding (and insanely long) American shows.
But to an outsider, the UK's foremost music awards show may appear somewhat confusing and less shiny than their US counterparts, with cultural in-jokes, drunken shenanigans and even a few on-stage disasters here and there.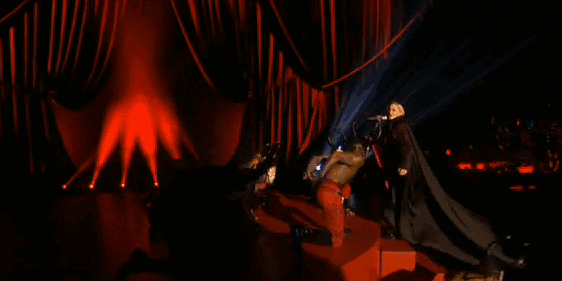 GIPHY
Poor Madge.
However, the booze-riddled, WTF? charm of the ceremony is what sets it apart from its bigger brother across the pond, providing a genuinely chaotic evening sure to be full of GIF-able moments. Still, if you are reading this in the USA (or are an international popstar just popping over to our shores for some high-profile single plugging), allow us to fill us in on some of the basics...
When/Where Is It?
February 22nd at The O2 Arena in foggy old London Town.
Who's Hosting?
X Factor main-man Dermot O'Leary and The Voice presenter Emma Willis have stepped in after Michael Buble bowed out due to family issues.
Who's Playing?
The 1975 (*screams internally*), Little Mix, Katy Perry, Ed Sheeran, Bruno Mars, Robbie Williams, Skepta and Emeli Sandé.
Who's Gonna Win Stuff?
PLEASE GOD JUST GIVE IT ALL TO THE 1975! THEY DIDN'T WIN THE GRAMMY AND IT WAS ONLY FOR A F*CKING BOX!!!! RIGHT THIS WRONG BRITISH PEOPLE!!! (And Twenty One Pilots taking Best International Group would be nice too).
So that's the basics. Got it? Good. Now, let's cover the really wild stuff. Here are a few of the key differences to look out for and help you fit in with the cockney crowds.
1) There is no seating in rows, only at tables.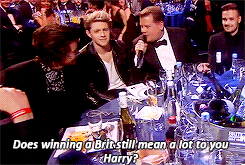 WWW.MIRROR.CO.UK
Yep, we tried the US style theatre rows once a few years ago before promptly abandoning it and returning to communal tables. It's easier to eat your dinner that way. Also, they serve dinner.
2) You can drink.
rebloggy
In fact if you don't get unreasonably drunk and insult at least three waiters you'll stick out like a disgruntled dad at a 1D concert. All the finest Brits moments have involved copious amounts of booze.
3) Although it's not as drunken as it once was.
Back in the grand old days of the 90s, all manner of pi**ed up shenanigans took place, featuring politicians getting covered in water by Chumbawamba, Rolling Stone Ronnie Wood getting into a fight mid-speech with a radio DJ and, of course, Pulp's Jarvis Cocker shaking his bum at Michael Jackson. Halcyon days. Things are now, comparatively, better behaved.
4) The awards all look different each time.
A few years back, someone had the grand old idea of re-designing the trophy for each awards show and this year's space-age collection has been designed by Zaha Hadid. Just watch you don't take anybody's eye out on the way down the stairs.
5) Swearing is encouraged in the room but won't make the TV.
Daily Dot
You could try but, as Kanye's 2014 performance demonstrated, you'll be bleeped into oblivion. Robbie doesn't stand a chance.
6) The speeches go down best when they're short, to the point and don't include any awkward "jokes".
tumblr.com
Nobody wants to hear you ramble and, unlike America, there's no orchestra to play you off when you go on too long. So just keep it simple or you'll leave the room baffled. Joss Stone has still never explained this accent.
7) Performances tend to be quite over the top.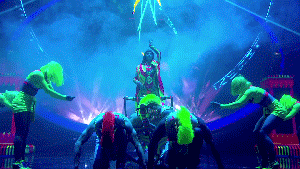 GIPHY
Spectacular, prop-heavy highlights include Geri Halliwell emerging from between a giant pair of legs for some reason. You don't get that at the AMAs. Plus, with the presence of the mighty Katy Perry at this year's show, you can expect some proper spectacle.
8) This man has won the most Brits ever.
tumblr
His name is Robbie Williams and he has 17 of them. He used to be in a boy band and then wrote our national anthem, "Angels". He occasionally lives in your country.
And that's about it.
So US stars, settle in on the 22nd and try to keep up. We'll see you at the after party for a blue WKD and a kebab (another UK tradition).
tumblr