When Your Faves Get Political: 8 WTF Celebrity Endorsements
1 February 2016, 15:04 | Updated: 8 May 2017, 17:09
Washington + Hollywood = WTF?
Over the years, we've seen some truly WTF pairings between politicians and our faves of the day. Last week, when it was announced that Red Hot Chilli Peppers would be playing at a Bernie Sanders campaign gig, we were reminded of some of this weirdness once again.
Because, to be fair, the forever shirtless, sort-of-hippies-but-not-really members of RHCP are actually a perfect fit for Sanders' liberal darling campaign. But they're only the latest in a longstanding partnership between DC and Hollywood, some moments of which might surprise you.
1) AZALEA BANKS ENDORSING DONALD TRUMP.
Ok so, I think I'm ready to admit that I'm going to vote for Donald Trump.

— azealiabanks (@AZEALIABANKS) February 1, 2016

Banks just announced her political affiliation on Twitter and we do not know what to do with this information. She justified her choice by proclaiming that Trump is "the only one who truly has the balls to bust up big business" and "I only trust this country to be full of s**t, so we may as well put a piece of s**t in the White House."
Iron-clad logic. The rapper actually did quite a good job of defending her point on Twitter, although we're still not sure we'd vote for Trump in any universe.

2) Snoop Dogg For Ron Paul 2012.
politico.com

The connection here is a bit tenuous, but in 2012, when the Republican senator was trying to get the nomination, Snoop posted a photo of him on his Facebook page with the caption "Smoke weed every day." We're taking that as an endorsement, and an unexpected one at that. We always thought Snoop would swing Democrat.

3) All the times Jay Z and the Roc Nation crew backed up Barack Obama.
We're not so much surprised at this one, more like impressed at the dedication the First Family has to Barack and Michelle. Truly heartwarming.

4) Patrick and Pete from Fall Out Boy backing Obama.
We like to think of our faves as apolitical, but FOB actually have some very strong ties to the Obama campaign of 2008 and even performed at the Kids Inaugural Ball that year.

5) Chuck Norris backing Mike Huckabee in the 2007 primaries.

This one makes so much sense when you think about it. Also, that ad was top notch and now reads like some fine satire.
Behind Chuck Norris' beard, there's just another first.

Mike Huckabee (seriously, we wish we were joking.)

6) The insane, iron-clad list of celebrities, endorsing Hillary in this year's primaries.
According to Fortune, the list includes everyone from Kimye to Lena Dunham to Katy Perry to Robert Dinero and basically all of white Hollywood.

7) The group of outspoken young celebs putting their support behind Bernie Sanders, including Zoe Kravitz and Ezra Miller.
buzzfeed.com
Artists for Bernie (sounds made up, but isn't) also includes Danny DeVito and that one guy from Entourage, but it still looks like Sanders might be a bit behind in the celeb endorsement game.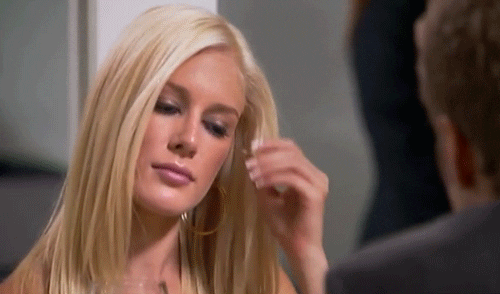 giphy.com
She's from The Hills, guys. In case you needed to know.
Were you surprised by any of these endorsements?