You'll Never Guess Who Sia Lost Her Songwriting Crown To…
7 April 2016, 16:34 | Updated: 8 May 2017, 17:09
A worthy winner IMO.
We wonder if Sia had heard of Courtney Barnett before she stole her crown at the Australian Performing Rights Association (APRA) awards?
On Tuesday night, indie artist Courtney Barnett won the Australia's Songwriter of the Year award at the APRAs, breaking Sia's three-year-long winning streak in the process. Take a bow, Courtney...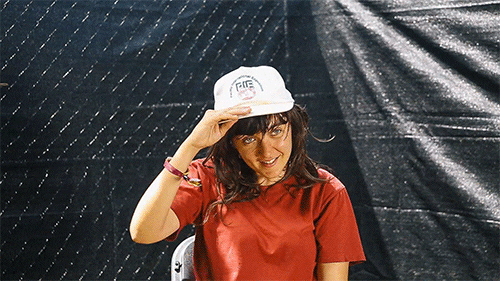 For the uninitiated, Courtney Barnett is a 29-year-old singer-songwriter from Melbourne. Here she is with her award last night.
Woop woop!
Courtney's known for her wry, rambling lyrical style. Seriously, just check out the first verse (more like a monologue, really) of her breakthrough single "Pedestrian at Best". These are precisely the type of thoughts I have when I'm having a nervous breakdown about life. IT'S VERY RELATABLE, OKAY!?!?!

I love you I hate you I'm on the fence it all depends whether I'm up I'm down I'm on the mend trendsetting on reality I like you despise you admire you what are we gonna do when everything all falls through. I must confess I've made a mess of what should be a small success but I digress at least I've tried my very best I guess this that the other why even bother it wont be with me on my death bed but ill still be in your head"

Pedestrian at Best

It's also a certified BANGER.
She's already been nominated for Best New Artist at the Grammy's. Here she is at the Grammy's earlier in the year chatting to Tyler Oakley.
If you're a fan of Hole, Sonic Youth, St Vincent or Paramore, we think you'd like her debut album Sometimes I Sit And Think, Sometimes I Just Sit.
"Depreston" is one our favourite songs. It's got this sleepy Americana feel and the lyrics perfectly capture the drudgery of suburban life. AGAIN, IT'S VERY RELATABLE.
So what do you think about Courtney? Let us know in the comments!