Doja Cat denies being racist after problematic song and chat room footage emerges
26 May 2020, 15:37 | Updated: 18 July 2022, 16:07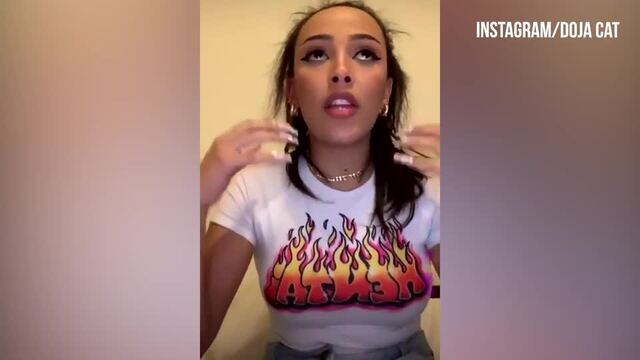 Doja Cat addresses racist, alt-right accusations in Instagram Live video
Doja Cat has taken to Instagram Live to defend herself after she was accused of secretly being part of alt-right groups and using racist slurs in her music.
Doja Cat has had quite the year, shooting to fame after 'Say So' went viral on TikTok, being accused of being on drugs while on Instagram when she was supposedly picking her nose, and now she's under fire for reportedly being part of alt-right movements, after racist slurs in her music have been uncovered.
24-year-old Doja, real name Amalaratna Zandile Dlamini, took to Instagram Live to address screen grabs of old chat room conversations, as well as racist words being uncovered in old, unreleased music, that led to #DojaCatIsOverParty trending on Twitter over the weekend.
READ MORE: Doja Cat is being accused of "ripping off" another song with Say So
The song in question, a 2015 track titled 'Dindu Nuffin' shares its named with a phrase used to mock minority communities that have fallen victim to police brutality, and some people even think the lyrics refer to Sandra Bland who died in police custody that year, although her name was never mentioned, and is something that she has flat-out denied in her statement.
Screen grabs of Doja have also emerged of her making 'sexual comments' to men who are allegedly members of the alt-right incel community (white supremacists who are involuntarily celibate).
And with tensions boiling over online and a number-one single at stake, the 'Juicy' singer took to Instagram to share the 98 apology videos she had drafted in her phone, before setting off on a 30-minute explanation of what had really gone down.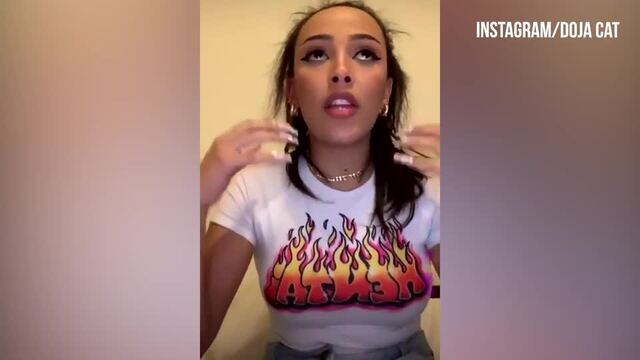 Doja Cat addresses racist, alt-right accusations in Instagram Live video
"This is the most serious you're ever going to hear me speak," she said.
"To all of my young fans [and] people who look up to me, my behaviour isn't always something that needs to be followed.
"I'm not perfect - but at the end of the day I shouldn't be doing dumb [stuff]".
She went onto talk about the alt-right movement involvement adding, "The narrative that it's a white supremacist chat is absolutely 100% incorrect.
"I love my skin colour. I think I'm beautiful"
She also denied mocking Beyoncé, following a video in which she appears to refer to the star as "Beyonkey".
"Beyoncé is the cream of the crop," she said. "Beyoncé is the reason why I believe I can be who I am. Beyoncé is one of the driving forces of who I am in my career. Beyoncé is undeniably talented and every time anyone has ever came for Beyoncé, I was there. And that's all I have to say."
She later uploaded an Instagram post for those who didn't catch her live stream (which has been praised thanks to her honesty), adding that "I love you all and I'm sorry for upsetting or hurting any of you.
"That's not my character, and I'm determined to show everybody that moving forward."
Is it time to forgive and forget for Doja?
READ MORE: QUIZ: Make a playlist out of viral TikTok hits and we'll guess your age