"I've Ended Up Successful For Being A Slut": A Chat With Elle King
21 January 2016, 16:30 | Updated: 8 May 2017, 17:09
We talk boys, booze and slutty icons with the "Ex's & Oh's" singer.
Elle King's trajectory to mainstream success has been a slow one.
While most people would consider immediate chart positions to "Ex's & Oh's", Elle's debut single proper, as 'a flop', something about the song gave it an unusually long life. It may have taken nearly two years, but the song is finally getting the recognition that it deserves.
If you're not aware, "Ex's & Oh's" is a f*ckin' rock and roll banger.
Her subsequent album, Love Stuff, is a feisty collection of songs focused on the trails and tribulations of love (and making love), full of girl power and dirty blues - all things that we LOVE at PopBuzz. So we called the singer up to chat about boys, booze and Anna Nicole Smith...
PopBuzz: Hello Elle, how are you?
Elle King: I'm good, thank you.
PB: Let's talk about "Ex's & Oh's". It's quite the stomper.
EK: I think it's a stomper, yeah. It usually makes people dance, jump around and get rowdy.
PB: We love what the song is about. Would you say that you're a maneater?
EK: Erm...no. But, I have slept with a bunch of people. So, actually, maybe?
PB: Amazing. The video is pretty wild, too.
EK: Oh, it was a lot of fun. I got to caress guys and was screaming, "More oil! These naked men need more oil!" It was great. It's always fun to look at naked people all day.
PB: They're pretty good looking naked people.
EK: Yeah, I thought so. I thought I was wearing too much clothing in the video myself.
PB: I love that the song deals with the idea of making your way through men like playthings. It's something that I feel more women in music should be doing.
EK: Are other women not doing this? Am I doing something wrong?
PB: I think it's a good thing!
EK: Oh, I know I'm just kidding. I live my life a certain way and I haven't gotten in trouble for it. I've actually ended up becoming successful for being a slut. It's really nice. It's working for me.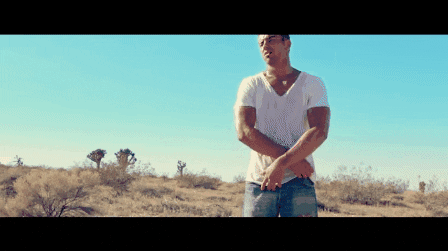 Columbia Records/Elle King VEVO
PB: Do you have any advice for someone who's being pestered by a bunch of fuckboys and you wanted to leave them high and dry but didn't know how to do it?
EK: Block their number. I just cut off all communication. Whenever I'm done talking to somebody, it's like they never existed.
PB: So how would you lose a guy in 10 days?
EK: I wouldn't. When I fall in love with someone it usually takes about three months.
PB: Amazing.
EK: It's funny because it just ends up happening that way. I don't even realise it. I'll date somebody, fall in love with them and then we'll breakup and be like, "Oh my gosh, has it been three months?" And it'll have been three months. That's just how long I can stand it for.
PB: I don't really believe that humans were meant for long, sprawling monogamous relationships anyway.
EK: No! There'll be many great loves of my life. Right now there's been many of them, and I think that there'll be many more. I'm just so young and I've got so much more time to have fun and be bad.
PB: Is there ever a cut off for having fun and being bad?
EK: Exactly. I'm like you. I think you and I should be friends and go out. I'm a really good wingman.
PB: Me too, actually.
EK: [laughs] I believe you.
Instagram/Elle King
PB: Is rock and roll an important thing for you?
EK: YES! It's, like, I need it. I need to go to rock and roll parties; I need to go to rock and roll shows; I need to make out with rock and roll boys and girls; and I don't know. I also just really like to party and have fun. Last night I had the craziest show ever. I don't even know what fucking happened - I got kicked in the face at a party and the show was so much fun. I'm feeling very rowdy right now.
PB: The album has a bluesy feel to it. Is that the music you're drawn to?
EK: Yeah. I listened to a lot of different stuff growing up, but I really, really loved blues and soul and gospel. That is a major part of my inspiration and what comes out of me, whether it comes out in a rock and roll way or even in a country way, it's something that's inside of me, y'know?
PB: There's a real southern, sweaty closeness to the record.
EK: [laughs] Well good.
PB: I'm obsessed with "Ain't Gonna Drown" for ages. It has a really nice gospel element to it. What was the influence behind that?
EK: I was going through a pretty dark time and I was like fuck it. I'm probably going to die and go to hell so I'll just fucking fight this shit and get through it, and if I die trying then whatever. Pretty much. Does that sum that up?
PB: Yes, quite well actually. The album focuses on a few relationships. Would you say that after all that time and after writing the record that you're a love expert?
EK: Obviously not! Did you listen to the record? Hell no! I don't know what I'm doing. I'm just good in bed, that's it.
PB: That, in some circles, would make you a love expert...
EK: Ok, yes, I'm a making love expert, is what I am.
PB: Today it's a lot more complicated than going to a bar and hooking up with someone. But everyone has an app for everything.
EK: The thing is, I don't do Tinder or anything like that because I could meet anybody and I'm very persuasive. But I do like to do Tinder for other people. I like to swipe for them and send messages; it's my favourite thing in the world. I would just never do it for me because I don't really...I can get laid.
PB: Let's chat style, because you can go from rocking a leather biker jacket to standing in the middle of the desert in a gown. Where do you find it all?
EK: You know, I go through really weird phases. I'm coming off a rave girl phase right now and so all the pink is washing out of my hair and, even thought I can't quite keep my big white fur coat down, I'm levelling out from rave girl to glam rock. I'm wearing big 7 inch platforms right now, white fur coat and the same t-shirt I've been wearing for three days.
PB: That's quite Anna Nicole Smith, I love it.
EK: [gasp] Ugh, she's one of my icons. I love her.
PB: Oh yes. Who else do you draw inspiration from?
EK: Well I love the way The Runaways dress, I love Dolly Parton, Anna Nicole Smith is amazing. I like slutty and ridiculous.
PB: That's a strong aesthetic. It's taken a bit of time for people to cotton on to "Ex's & Oh's" and the album. Are you done with it now?
EK: Oh hell no! No way. I'm just touirng this one, and I need another year of touring and making out with people to at least start thinking about album two.
PB: That's good. There's no rush.
EK: Exactly. I'm gonna milk this sucker for all it's worth. We're still on the first single and we're gonna go crazy with it.
PB: Finally, if you could define Elle King in three emojis what would they be?
EK: [gasps] Oh my gosh, this is amazing. The three diamond-y stars, the man with the sunglasses and then the nails.
Apple/PopBuzz
PB: Strong choices. Thanks Elle.
EK: Bye!