Grimes' mum gets into feud with Elon Musk after he shares alt-right meme
19 May 2020, 16:11 | Updated: 19 May 2020, 16:16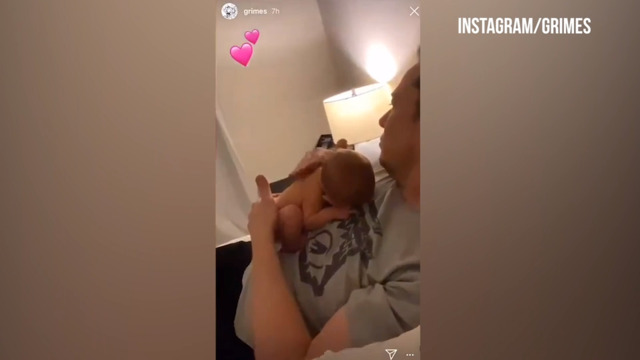 Grimes shares home footage of Elon Musk with baby X Æ A-12
Grimes' mum, Sandy Garossino, is dragging her daughter's boyfriend and Tesla owner Elon Musk for encouraging fans to "take the red pill" in a cryptic tweet.
It's been one hell of a month for Grimes and Elon Musk. Starting a family in the middle of a global pandemic, shocking the entire world with the name of their new addition (shoutout to X Æ A-12), and now, Grimes' mum, Sandy Garossino, is starting beef with Tesla founder Elon on Twitter.
The 48-year-old is known for being a bit WTF? on the internet, and it seems like over the weekend he seriously struck a nerve with Sandy after he tweeted a cryptic right-wing meme that simply said "take the red pill."
While it might not seem much on the surface, there's clearly been some behind-the-scenes tension brewing, because X Æ A-12's grandmother was not happy at the messaging he was putting out to his 34 million followers, and decided to make matters public.
READ MORE: 21 hilarious memes about Grimes and Elon Musk naming their baby X Æ A-12
In now-deleted tweets, Sandy replied; "If your partner went through a challenging pregnancy and childbirth in the last two weeks…And you were over 16 years old, Would you be blaring MRA bullshit on Twitter right now?"
Eek.
And to make matters worse, if having your mother-in-law blast you on the internet isn't bad enough, Grimes herself even gave the tweets a like in support of her mum. Oh Elon, things are not looking good sweetie.
We can only guess that it all started when Grimes admitted that she'd told people close to her what the baby's name was going to be before it was born, and that "they all hated it" because it was "too avant-garde". We see you, Sandy.
However, there were rumours throughout Grimes' pregnancy that her relationship with the billionaire, who has six other children, was on the rocks, so there's even questions to be raised if the pair are still together...
"Elon and Grimes have experienced a lot of ups and downs in their relationship throughout Grimes's pregnancy and have been on and off," a source told Us Weekly earlier this month. "Through it all, though, they have and will continue to maintain a close friendship."
READ MORE: Grimes and Elon Musk will let their baby choose their gender identity