Grimes' New Video Is The Gory Masterpiece You Need This Halloween
27 October 2015, 10:24 | Updated: 8 May 2017, 17:09
"Flesh without Blood/Life in the Vivid Dream" is perfect accompaniment for these spooky times.
It feels like we've been waiting a decade for the new Grimes album. It was getting so bad we thought we might have to sacrifice a family member to the gods of music for something new.
Thankfully their lives have been spared. The Canadian singer/producer has FINALLY dropped a new song "Flesh without Blood/Life in the Vivid" with a colourful, gory video.
In the clip Grimes appears to be playing lots of different characters, but the main protagonist seems to be this hipster Marie Antoinette who stabs herself...yikes!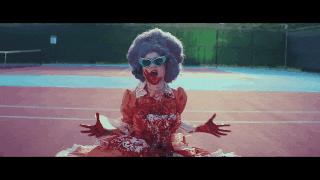 4AD/Vevo
Sh*t is going down.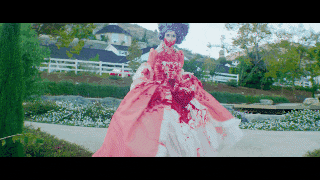 4AD/Vevo
Why not go for a swim? That will help wash the blood out.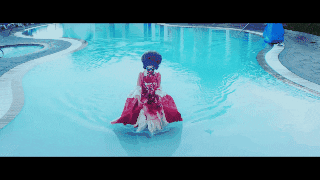 4AD/Vevo
It's actually a really fun video with lots of cool visuals, and the song is kinda amazing, too. More than that, it's got us SUPER excited for Grimes' new album Art Angels, which is due for release on 6 November.
Check out the insanely vivid video below and let us know what you think in the comments pls.