Ladies, This Guy Will Take You To Coachella For Free But He's Got Some Wild Demands
6 January 2017, 12:46 | Updated: 8 May 2017, 17:09
Jeepers creepers
Coachella 2017 is going to be lit. It's a hard fact to acknowledge (because of that heat and the professional cultural appropriators in attendance) but we all know it's going to be a good time. My Queen, Beyoncé Giselle Knowles-Carter, is going to be there and I would sell all my blood to see her in person.
Understandably, the hysteria surrounding the planned performances has caused some people to take advantage of everyone's desire to attend.
[Enter stage left]

A wild opportunist appears!
According to Mic, an ad was placed on Craigslist from a 56-year-old dude named Gordie, who really wants to take you to Coachella.
A little background on Gordie: He recently divorced his wife of 11 years, cashed in his 401k, and bought VIP tickets to Coachella.
Let me tell you now, Gordie's list of demands for one VIP ticket is truly...special.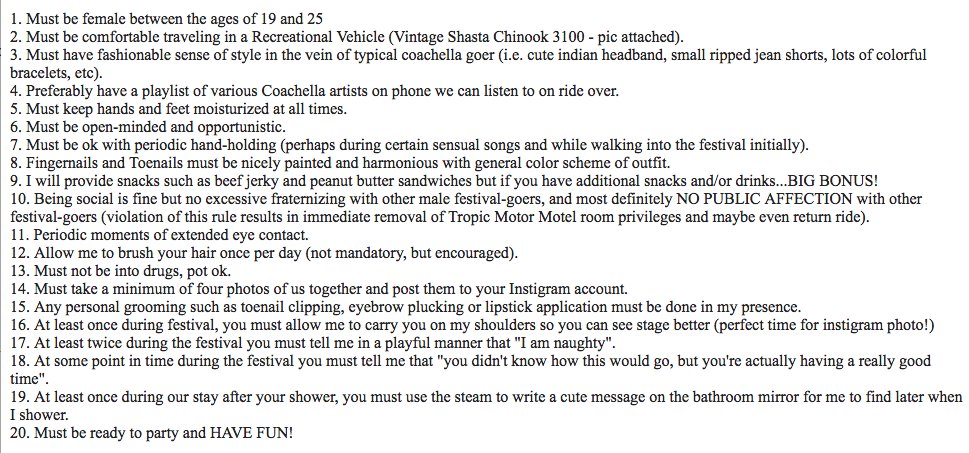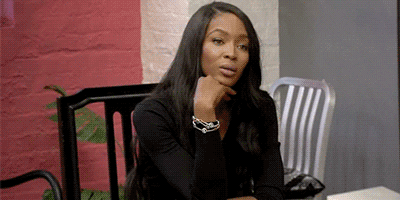 Honestly, it's a no from me.
Standouts from the list include that the special lady "allow me to brush your hair", "must not be into drugs. Pot ok", and have "any personal grooming such as toenail clipping, eyebrow plucking, or lipstick application must be done in my presence."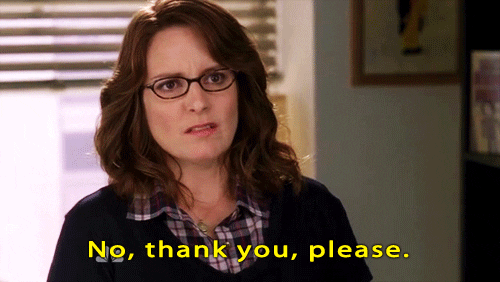 Needless to say, the internet has thoughts on Gordie's list.
I do really hope no one answers Gordie's Coachella advert. I think he should take a guy.

— John MacLeod (@mrjohnmacleod) January 6, 2017
Artistic rendering of Coachella Gordie pic.twitter.com/etO9bO9QH7

— Crystal Contreras (@crystalatencio) January 6, 2017
Like ok I feel a lil bad for Gordie but honestly nobody touches my hair, even for coachella tix sorry

— S (@shxlbz) January 5, 2017
@redgaskell @StevenBC1 Way to go gordie! 0 fucks given for that mid life crisis Coachella post

— The FPIA (@TheFPIA) January 6, 2017

Gordie's post has since been taken down and we're hoping that maybe Gordie finds a nice grown-up pal to take to Coachella instead.
Trust us, guys. This just isn't worth it. There will be other Beyoncé concerts (wait, Coachella is a type of Beyoncé concert, right?)
___ ___ ___ ___ ___
From Brendon Urie to The Vamps, here are the best bits from the #PopBuzzPodcast in 2016. Listen right here or subscribe for free on iTunes to get new episodes sent straight to your phone every Wednesday.