HAIM: 5 Reasons You Should Be Excited About Their Comeback
30 March 2016, 16:33 | Updated: 8 May 2017, 17:09
We're falling. Again.
OMG OMG OMG OMG OMG OMG!!! HAIM are back! Look they made a thing:
NEW SONGS. NEW SHOW. THIS SUMMER. pic.twitter.com/wNXhb2abno

— HAIM (@HAIMtheband) March 29, 2016

It's been 3 years since the release of their excellent debut Days Are Gone. The sisters have obviously been missing the touring life. In the video they say, "We're just been in the studio for so long, trying to get it right. At this point, we just want to go out there and play the songs live".
Well hot damn! So, what does all this mean? Let us break it down for you.

1) A BRAND SPANKING NEW ALBUM! YAYAYAYAYAY!!!!1!!
The sisters have been keeping shtum on most details but we do know that they've been working with former Vampire Weekend man and music producer Rostam Batmanglij, who's worked with artists like Santigold, Charli XCX and Carly Rae Jepsen.
As far as we're concerned, the relative silence is probably a good thing. It means they've been lying low, focussing on the recording and making the best record they can. We. can't. wait.

2) SUPER BIG SHOWZ
We first caught Haim at Glastonbury Festival in 2013. It was a dry, sunny day and a massive crowd had gathered in the natural ampitheatre at The Park stage to witness their Glastonbury debut. They were riding on a massive wave of buzz at the time and that show, for us, cemented our belief that they could, one day, be the biggest band in the world.
If the songs are right, that time could be now. That will mean massive shows for the Haim sisters. So far they've announced a slew of American dates, plus a few festivals in the States and one or two in mainland Europe. We expect there will be plenty more announced by the time Summer comes around.

3) Taylor Swift Collaboration? (Yes plz).
We'll take the Haim sisters with or without Taylor but, ya'll need to be honest, are you not in the slightest bit curious about what a Taylor-Haim collaboration would sound like? TayTay famously welcomed the girls into her squad when they joined her as the support act on the 1989 tour in 2015. Surely they found a few hours to kidnap Tay into the studio?
Side note: If Nelly wants to join in, again, that's totally okay with us, too.

4) Female-Only Festival?
Some of you may recall that back in October last year, Haim said in an interview that they had discussed "semi-jokingly but semi-seriously" about restarting Lilith Fair, a female-artist-only touring festival that ran between 1997-1999. It was also revived for one season in 2010.
At the time, Este Haim said they hoped artists such as Savages, Florence + The Machine, Taylor Swift, Lorde and Chvrches would be involved. "We talk about this all the time, how there aren't enough female represented bands and artists at festivals. You don't see them. And it's really sad for us. We came up with the idea basically of why can't we just bring back a festival that's just ladies".
Lord knows it's needed tbh.

5) MORE BASS FACE.
Just think how many more GIFs of Este's bass face we will have in a year's time?
Slay me, Este. SLAY ME.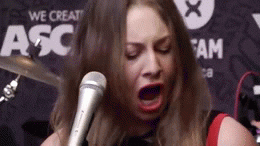 Werk.

Uh huh, hunni.

YAAASSSS KWEEN.