This Hey Violet Member Just Quit The Band In Emotional Message To Fans
1 September 2017, 11:42
The rhythm guitarist had been with the group since 2008 but had become worn down by their touring schedule.
Sad news today for fans of Hey Violet as longtime rhythm guitarist Miranda Miller announced her immediate departure from the band in a statement posted on the group's social media accounts.
Miranda, who had been with the group since 2008, cited the 'grueling' tour schedule as her reason for leaving, wishing her friends in the band all the best as they continue on: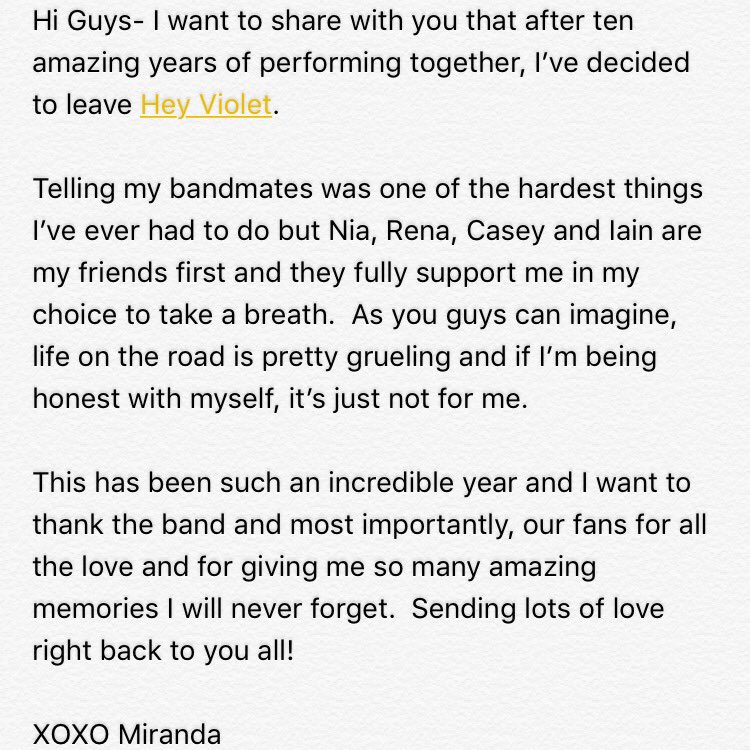 Twitter, Hey Violet
The rest of the band followed with their own seperate statement wishing their friend well: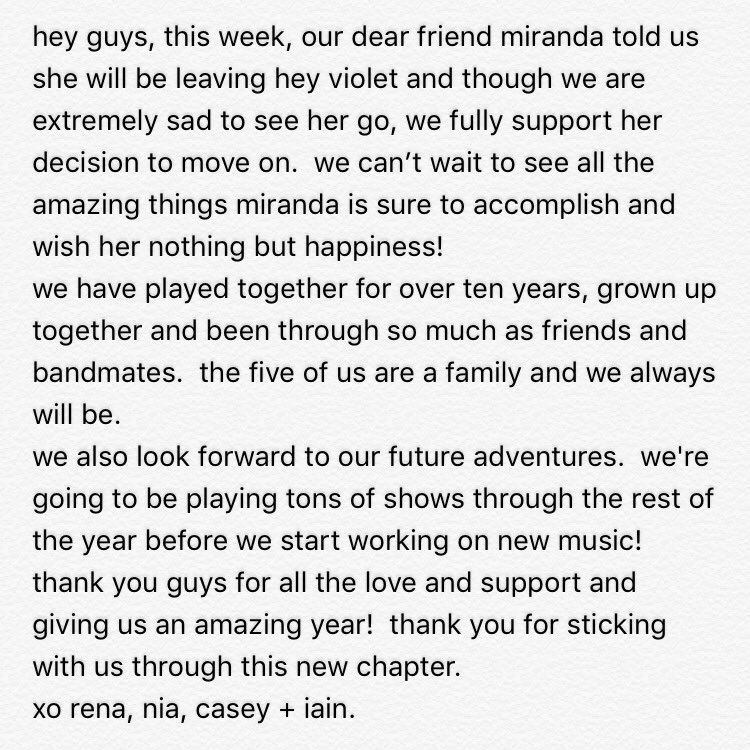 Twitter, Hey Violet
Fans were quick to show their support too, tweeting positive messages to Miranda and the band as the news spread overnight (August 31st):
i'll always support my girl @MirandaMiller even though she left hey violet. i love you miranda pic.twitter.com/HXN1HZM2jB

— cali misses miranda (@likeluversdo) September 1, 2017
Miranda is leaving hey violet but y'all better support this baby still , this just wasn't for her !! Please understand that !!

— andy !! (@brandnewmovves) September 1, 2017
*gives a hug to miranda, hey violet and all hey violet fans*

— katja (@heyvioletfam) September 1, 2017
I am upset that miranda is leaving hey violet, but i completely respect her. i understand that it must be tough living like they do.

— rhi (@rhiannonmcgx) September 1, 2017
So so so so sad to hear about Miranda leaving hey violet but If it's what's going to make her happy than I support her 100%

— Melissa (@MelisaRoseoffic) September 1, 2017
We're really gonna miss you Miranda :( but if doing this is what makes you happy we will support you no matter what. We love you so much

— Emma (@DertonEmma) September 1, 2017
@MirandaMiller I love you so much Miranda. You and @HeyViolet saved me. You guys kept me going. Thank you for everything. Good luck love pic.twitter.com/3WUkeDySxg

— Joss loves Miranda (@x_joss5sos_x) September 1, 2017
The band will continue to tour in support of their excellent debut album From The Outside through the remainder of 2017.
Check out our chat with the band in London from earlier this year in the video below: