IMPORTANT: Kanye West Doesn't Wipe His Bottom
29 January 2016, 14:23 | Updated: 8 May 2017, 17:09
Someone please think of the children!
This week has been truly wild.
First we had Rihanna's decision to surprise release ANTi on the world. We also had Zayn's "Pillowtalk" release and video. Not to mention the MASSIVE Twitter beef that went down between Kanye, Wiz Khalifa and Amber '#FingersInTheBootyAssB*tch' Rose.
All that shiz went down on Wednesday (27 January), but today there's been an update to the story...
Earlier today (29 January), Kanye tweeted the following...
Exes can be mad but just know I never let them play with my ass… I don't do that… I stay away from that area all together

— KANYE WEST (@kanyewest) January 29, 2016
Kanye clearly states here that he "stay[s] away from that area all together". Now, we know that Kanye is a man of his word so, according to this, the man doesn't go near that area *at all*.
So, does that mean Kanye doesn't clean his behind?
While Kanye's better half Kim Kardashian is obsessive over her bottom, Kanye seems nonplussed about the whole derrière. So... how does Kanye, y'know, sort out his business?
1. He pays Rob Kardashian to do.
Likely, tbh.
2. He uses a bidet.
Probs the most obvious.
3. He only sh*ts gold.
...
4. He is a god-like creature who, unlike us mere mortals, doesn't need to clean himself.
We believe this one the most.
5. He has developed a self cleaning tool that is only available in Yeezy Season 3, hence why some ripped robes and tracksuits are so expensive.
It's this one, isn't it?
Will we EVER get to the end of this mystery?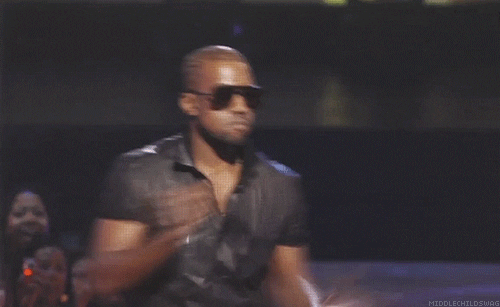 gifsee.com